We are delighted to announce that 17 year old Alex Murley will spearhead Team Toth Yamaha's 2017 World Supersport 300cc Championship campaign aboard the all new R3.
Murley the 2015 Kawasaki Junior Cup champion in the UK, finished 14th overall in this year's European Junior Cup with some stunning performances in both qualifying and the races in what was his debut season outside of Great Britain.
Alex will run #18 in the newly introduced WorldSSP300 category next year will run alongside the prestigious Superbike World Championship at 9 prominent European circuits.
Testing will begin in early 2017, with Alex's team mate due to be announced beforehand.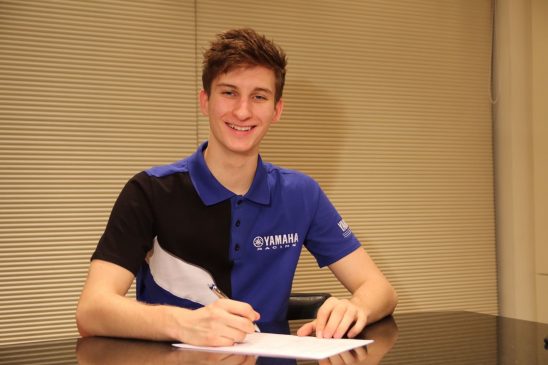 Alex Murley: "I'm really happy to join Team Toth for 2017. They're a great team, are very professional and have been in World Championship competition for many years both in the GP and Superbike paddocks. I'm really excited for new challenge and I'm confident that the Yamaha R3 together with the support of the team will give me a great chance to have a strong season. I know it will be a quick and competitive field but I think we can do a great job together. Big thanks to my family and for Imre and everyone at Team Toth for giving me this chance I can't wait to get started!"
Imre Toth – Team Toth Principal: "Team Toth is very happy to confirm our participation in the new category WorldSSP300 with Alex Murley. We are sure of his talent following his impressive year in the EJC and because he won the UK Junior Championship in 2015 with a 300cc bike, so I'm sure with our combined experience we will make an interesting season. We will race with the Yamaha R3 which we believe is the best bike to run at the front and which we believe will allow us to achieve the best position. We happily welcome Alex together with his parents and sponsors to our team. We will shortly present our second rider who will also compete in WorldSSP300 next year alongside Alex."
Be sure to follow Alex via his social media channels throughout 2017 for up to the minute news, photos and results as they happen.