Florian Neubauer bagged another 5 points and an 11th place finish in the penultimate race of the GSXR Challenge, which runs alongside the IDM Superbike Championship, at the iconic Hockenheimring circuit yesterday. He was taken out in the final encounter later in the day but despite the no score was happy when reflecting on a positive 2015.
The weekend began strongly with Florian 7th after opening practice, he eventually qualified 14th.
Both races were scheduled to run over 15 laps with Florian making up places rapidly in race one after a less than perfect start that saw him lose positions on the opening lap. Fully focused he worked his way through the field and was inside the top 15 with ten laps to go, lapping as fast as those in the top 7. A frantic final lap saw him involved in a multi-rider fight for 12th which he won, claiming 11th at the flag however after a rival ahead crashed out of contention that elevated him another position.
All was looking good for race 2, some suspension changes giving increased pre-race confidence but it wasn't to be. Neubauer, made a much better start and was in the top ten at turn one but his progression was cut short, the young German skittled out of action on the opening lap by a rival, thankfully without any serious injury.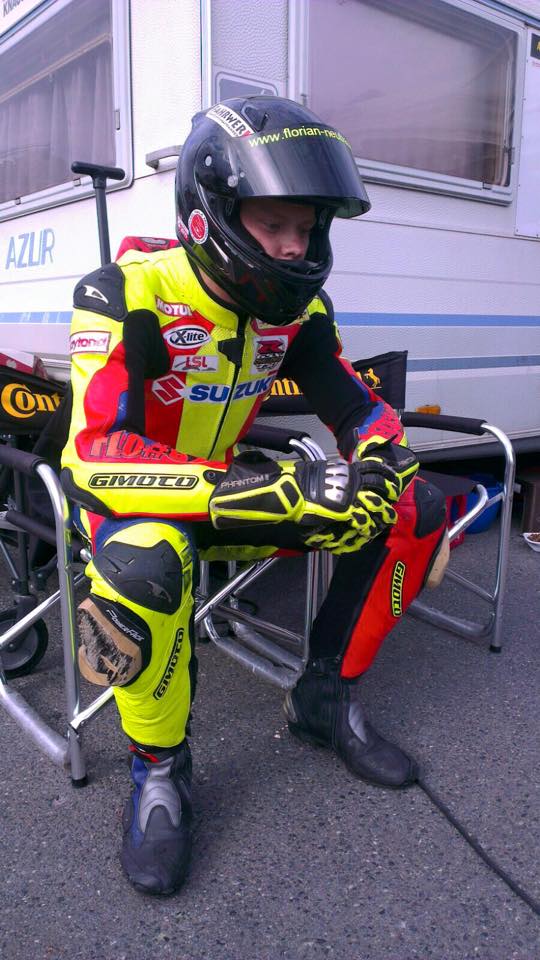 Florian Neubauer – 15th overall in the final GSXR Challenge Standings: "It was an tough opening race with many position changes and overtakes. I dropped to about 20th on lap one and the bike was set up right at all after a change to the spring but I did manage to get into a rhythm and was soon fighting for the points. I feel that I could have been faster but it was difficult to pass the group but in the last 2 laps I made my move to lead the group but the top 10 were too far ahead. Race two was over before it began which is a big shame as it wasn't my fault. The rear suspension was now at the right setting and I got quite a good start, I think I was 10th at the turn one. At the exit of the corner the guy in front of me crashed and I hit his bike and crashed as well. It wasn't the way I wanted to end the year which has been getting better and better with every race. If we had been as fast at the start of the year as we were in the last races then I am confident we could have easily been top 10 or higher in the overall points. I hope to announce soon where I will race in 2016 and where you are gonna see me next year. I want to say 'thanks' to all my sponsors, partners , friends and my family for their support the whole season and I want to wish Ricarda good luck for the final race in France."
Yesterday's race 1 result ensures that Florian ends 2015 15th overall in the championship standings with a season's tally of 38 points.
In the coming weeks he will announce his 2016 plans as well a new interactive website: www.florian-neubauer.com