Sam Wilford was lucky to finish the Pata European Junior Cup race at the Misano World Circuit Marco Simoncelli last Sunday after a technical problem while running 4th meant he would lose pace eventually finishing 12th.
The podium finisher at Portimao made a steady start to the weekend as he learned the 4.2km circuit on the Adriatic Coast before finding a great setting just in time for final qualifying. The improvement from Friday to Saturday was clear for all to see, Sam taking 7th on the grid despite crashing while on a potential row 2 of the grid lap in the final minute of qualifying.
Race day dawned with sunny skies and after a perfectly timed start when the lights went out the youngster from Kent in the UK was immediately up to 4th and challenging for top honours.
Looking comfortable disaster struck, as at half distance Sam's CBR650F Honda began to lose power, costing him several seconds a lap. Doing all he could to maintain position Wilford would eventually finish 12th after being overhauled by several of his rivals in the closing stages. Despite only adding 4 points to his tally, Sam remains 9th overall in the European Championship Standings with the strong possibility of taking 4th by the season's end.
Sam Wilford – 12th position: "Not the best end to the Misano weekend. On Friday track knowledge held us back a little but once we got to grips with setup we were in the mix. On Saturday unfortunately I crashed in the closing stages of Qualifying which left me 7th on the grid. Considering the circumstances I was happy with qualifying and was confident we had the pace to fight for the podium in the race. After an amazing start which put me fourth at turn one we were struck by bike problems right to end where I managed to nurse the bike home in an disappointing 12th. I was gutted about the race as I was sure we had the pace for an podium or maybe even more! We will be back fighting harder at Jerez where I got the lap record last year! I would like to thank everyone who has helped me so far this season, I'm sure we will get there in the end!"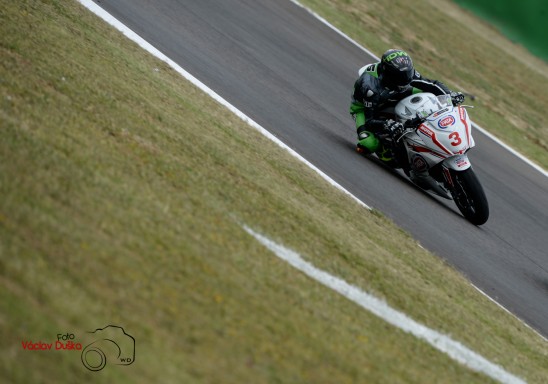 Despite the problems on race day confidence is high ahead of the penultimate round if the EJC in Jerez. Sam is the current lap record holder of the Spanish circuit for the category after a sensational wildcard entry in last year's event.