Following on from his impressive Donington Park result in the European Junior Cup, Britain's Sam Wilford was once again in contention for top honours in the most recent encounter at Portimao in Portugal, racing to his first European championship podium finish in 2nd, after starting from Pole Position.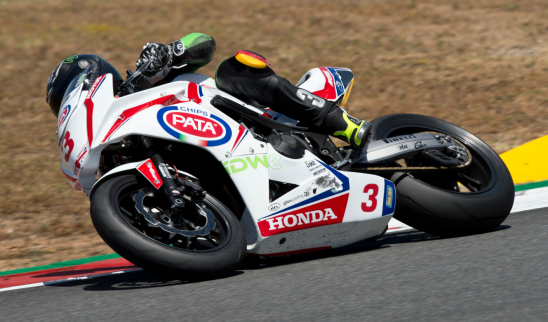 With a renewed confidence, Wilford was the fastest rider on day one of practice before edging championship leader Javier Orellana to secure his maiden Pole Position in the Portuguese sunshine on Saturday afternoon.
Temperatures were close to 30 degrees as race day dawned, with weather conditions at the time the EJC was scheduled to start almost perfect.
A red flag almost immediately after the race started, courtesy of several riders falling at turn one, resulted in a short delay before, at the restart, Sam once again converted his Pole Position into an opening lap lead.
The shortened 6 lap encounter was a thriller and possibly the best EJC race of the year, with the top 3 swapping places throughout.
At the flag and after a tense final lap Sam finished 2nd crossing the line side by side with his rivals to make it onto the podium for the first time at European championship level, to the delight of his father Ian, who celebrated his birthday over the weekend.
Sam Wilford – 2nd position: "Best weekend so far in the European Junior Cup! Topping the times all weekend was a great feeling. Getting my first pole position by just 0.06 sec was amazing and a nice birthday present for my dad. In the race I made a good start but unfortunately it was red flagged and then shortened to a 6 lap dash. In the restart I managed to get to the front again and fought hard throughout until the last lap where I dropped to second. I couldn't have asked for much more though after such a good weekend. It was an amazing feeling standing on the podium spraying champagne at a World Superbike event!"
The result elevates Sam to 7th overall in championship standings with 3 rounds remaining.