Hunter Su (Team China) was back in the points in the latest round of the Copa CBR 250cc Cup held at the Ricardo Tormo circuit in Valencia over the weekend of 9th/10th May as his learning curve continues, the youngster now comfortably able to mix it with the pack showing great progession in only his 3rd race weekend in Europe.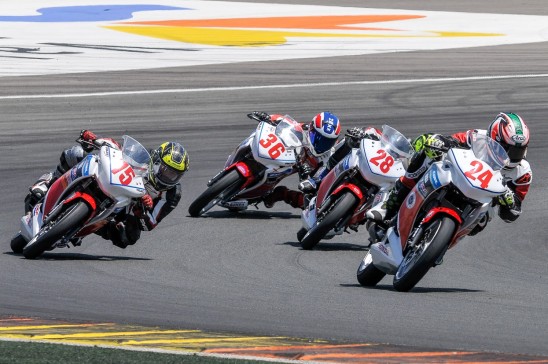 Su backed up his solid results from the previous round to qualify a respectable 16th on the grid for the two race, the first of which was held on the Saturday. In the race, he was able to fight hard with those around him, and was able to come away with a point for a 15th place finish after getting the better of one of his rivals.
Race 2 on Sunday was tougher as a problem with the tyre saw him unable to ride the way he wanted, he did however sho some great skill to avoid crashing out on a number of occasions. It was a big disappointment as during the morning warm up session, and after several overnight changes things were looking rosy.
After his point scoring finish on Saturday, Hunter is now in a respectable 16th in the championship for Team China with 10 points.
Nevertheless that's racing and Hunter will now regroup and prepare for the next round in June at Navarra.
Hunter Su – Team China: "In the morning for the warm up, I felt great, and I was super excited for the race! On the warm up lap, I felt there was something wrong with my tyre, and nearly high sided but was able to save it. I told my mechanics about it on the grid, they checked the pressure and it was correct. I made a good start, and held a good position at turn 1, but as soon as I arrived at turn 2 I was running super wide, and I knew it was down to the tyre. I passed the back group of riders after getting back on track and tried to run away from them, but went super wide again. Got last position. Despite what happened in race 2 I am quiet happy, because even with an issue I was still able to battle with people without crashing. It's all part of learning!"