Hunter Su became the first ever Chinese rider to score points in a Spanish domestic championship yesterday after racing to two 12th place finishes at Alcarras, Spain in the second round of the Copa Honda CBR 250RR series.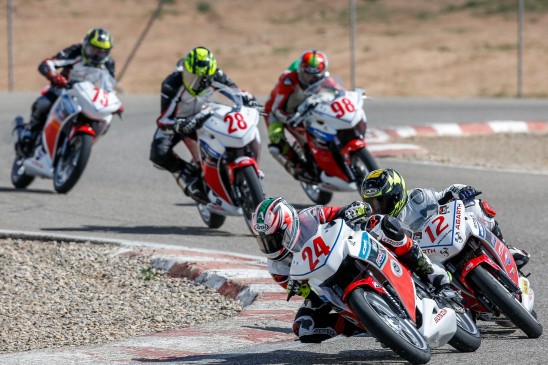 Su, who is riding under the Team China banner in 2015, has relocated to Spain in his quest to hone his racing skills, a choice that seems to be paying dividends after the 18 year old qualified an impressive 10th before achieving two encouraging race results, improving his lap times with each on track session.
After qualifying inside the top 10 for the first time in his career, Su was confident of two solid races, and after race long duals that saw him narrowly miss out on the top ten in both encounters the delight on the faces of all concerned was clear to see, with Hunter especially elated with his achievement.
The results were even more impressive given the conditions, with light rain falling in the opening race, making things tricky.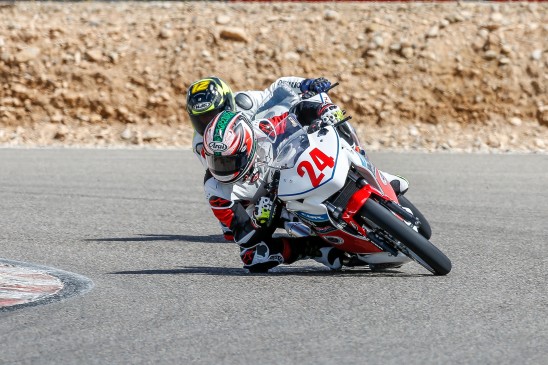 Hunter Su – Team China: "It was great to be racing on the circuit that I've practiced a lot on in Spain! The weekend started amazingly well, I kept improving my personal best lap time during the practice sessions, the team was really happy with my progression, and I really enjoyed every lap I rode. Qualifying was really interesting, the track was cold and it started to rain half way through the session so I was  happy with 10th place on the grid – it was such a big step forward from round one. I had a great start in race one and was battling with another rider for 11th for the whole race, but I made a small mistake and he passed me at the last corner of the last lap.  For race 2, we made some gearing changes and some small tuning on the suspension. The track was now dry, and it was super sunny. After hanging out with some of the the riders, I was way less nervous – they don't speak too much English, but it was still lots of fun to be around them. I was using rear brake every single corner and the bike was dancing everywhere, I guess racing Supermoto for a year is paying off. It was a great fight for 10th and although I finished 12th place again it was a really successful weekend. I'm learning more about how to get myself mentally ready and be a happy and chilled guy. I cannot wait for the next round!"
The next round of the championship takes Hunter and Team China to Valencia next weekend.