Sam Wilford recovered from a first round non-finish at MotorLand Aragon, through no fault of his own, and a further spill in FP1 at Assen to claim his first championship points of 2015 in the PATA European Junior Cup.
The youngster who has dominated Aprilia RSV450 races in the UK, is making his first full season appearance in the ultra-competitive one make series that runs alongside the World Superbike Championship, and is looking ahead to round 3 in Imola after an eventful start to his campaign.
Qualifying strongly in Spain for Round 1, Wilford was the victim of someone elses accident, being wiped out before the first corner in the opening race. Looking to make amends at the Cathedral of Speed which is the Assen TT circuit, things didn't get off to the best of starts, as another spill saw Sam miss out on valuable track time, but nevertheless, he recovered to ride a solid race, claiming 14th position at the flag after 10 hard fought laps on Sunday.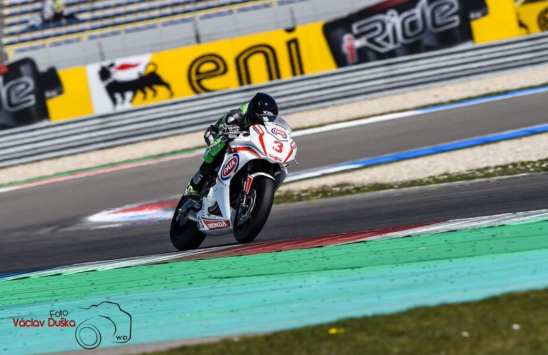 Sam Wilford: "It was a difficult weekend at Assen! With not knowing the track and crashing early on in practice the weekend turned out to be very hard. But you can only learn from mistakes and I will be back stronger at Imola. After being wiped out in the first race at Aragon I was really hoping for some big points but it wasn't to be. Thanks to everyone that's supporting me, we will get back nearer the front next time."
Round 3 of the PATA European Junior Cup is scheduled to take place at another historical circuit, Imola on May 10th, 2015.