Troy Bezuidenhout, the youngest rider in this year's Pata European Junior Cup, at just 14 years of age, scored his first championship point of the 2015 season after passing Turkey's Harun Cabuk on the final lap of a thrilling 10 lap race at the legendary TT circuit Assen.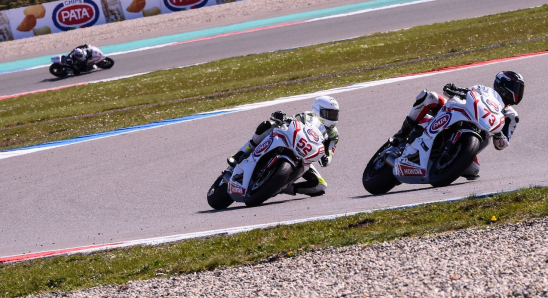 After narrowly missing out on a point scoring finish in round one, a week earlier at MotorLand Aragon, the young South African appeared much more at ease aboard his CBR650 Honda, lapping faster and faster each time he was on track.
An average start saw him drop to 24th before he gradually worked his way through the field to claim a well deserved point with a spirited ride to 15th at the flag.
Troy also won many fans following his short appearance on stage at the paddock show arena as well as the recognition from the trackside marshals who were made aware of Troy's result over the circuit tannoy after the flag.
Following the result, he heads to Imola in a couple of weeks confident of further improvement.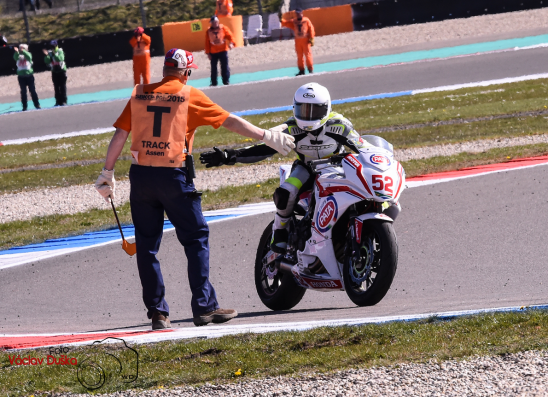 Troy Bezuidenhout: "This weekend was a big improvement! I am much happier and much more confident going into imola. The race was once again was delayed which didn't help my nerves, but nevertheless the race went on half an hour later and I was ready. My start was terrible I was roughly 24th into the first corner, but I slowly recovered ground over the course of the race and a true battle ensued between me and Harun which was great fun. On the last lap I beat him to the line by less than a tenth of a second to score my first point of the year. Thank you to Into The Blue Diving, Arai Helmets, my mom, dad and Michael and all my supporters – thank you so much for everything and for making this weekend possible. Thanks to go to Ondrej Jezek and Michael Rinaldi who both took me arond the track on their scooters."
The next round of the PATA European Junior Cup will be held at the iconic Imola circuit on May 10th, 2015.