The CF Motorsport Pacedayz.com European Trackdays squad of Kyle Ryde (Supersport), Ben Currie and Ross Twyman (Superstock 600) declared themselves ready to race in the opening round of the British Championships this coming weekend at Donington Park, after a series of winter tests in Spain and the UK saw all three riders on the pace.
Team Owner Craig Fitzpatrick (Team Owner) was equally buoyant, commenting on how all three of his 2015 riders looked comfortable within 20 minutes of the first test in Valencia, despite not riding for 5 months.
The team moved South to Jerez for the Pacedayz organised test after the initial Valencia shakedown, where once again the three talented youngsters showed promise, before returning to the UK and the official BSB test at Donington Park, where unfortunately the weather stopped any real testing, with the team only managing around 7 laps in total on the damp Leicestershire circuit.
Looking ahead to the Easter Weekend's opening races, the CF Motorsport Pacedayz.com European Trackdays squad are in good shape, and confident of a strong start to their 2015 campaigns in both British Supersport and National Superstock 600cc.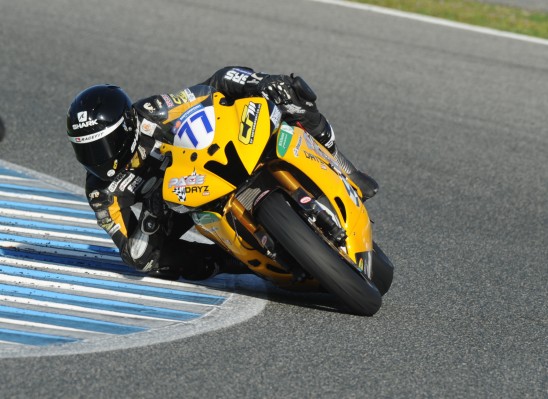 Kyle Ryde – "Testing was ace! Despite me not riding the bike for 4-5 months I was surprised how quickly I got up to speed. Valencia was just a shake down but the Pacedayz test at Jerez was probably the best 3 days of testing I have ever had, it was good to ride so much with used tyres which I am sure will help us in the races. Donington Park was pretty much a right off with the weather but I had a little wobble round and I'm ready to go racing."
Ross Twyman – "Testing went well, the bike is mint and working with Craig has certainly given me the confidence to go into round 1 ready to put on a good show."
Ben Currie- "I immediately felt comfortable on the Pacedayz R6. The team and I are working great together and I can't wait to get to Donington for round one. The tests in Spain were really good and I'm super happy to be part of this amazing team."
The first races of the 2015 season are scheduled to take place on Easter Monday at Donington Park.