Italy's Fabio Menghi claimed the final World Championship point in the opening race of the 2015 World Supersport championship, bringing his VFT Racing Yamaha home in 15th place at the end of a very hot and exciting 18 lap race in Phillip Island.
For Menghi it was not quite the top ten result from 12 months ago but nevertheless the Yamaha rider is happy to have opened his scoring sheet in Australia.
Fabio started the race from 11th on the grid, holding his position in the early stages before losing a little of his pace as the race progressed, the Italian just missing out on 14th to Australian Glenn Scott in a final run to the chequered flag.
Fabio Menghi – 15th position: "I'm happy to score my first point of the season but I'm a little frustrated because I was still struggling through the final sector of the lap during the race. My team is all new but the atmosphere is fantastic and we are confident that we can improve on our opening race result as the season goes on."
Round two of the World Supersport championship will take place in Thailand at the all new Buriram circuit on March 22nd.
MENGHI SUBITO A PUNTI NELLA GARA DI APERTURA DELLA SUPERSPORT IN AUSTRALIA
L'Italiano Fabio Menghi riesce ad agguantare l'ultimo punto disponibile nella gara di apertura del Mondiale Supersport 2015, portando la Yamaha del Team VFT Racing in 15° posizione dopo i 18 giri previsti per sul tracciato di Phillip Island.
Per Menghi non si è trattato certo di un risultato simile alla top 10 raggiunta nella gara dello scorso anno, ma ad ogni modo il rider della Yamaha è di certo felice di aver aperto a punti questa nuova stagione.
Fabio ha cominciato la gara in 11° posizione e l'ha mantenuta per diversi giri, fino a quando non ha perso alcune posizioni e si è trovato a lottare per il 14° piazzamento finale, conquistato poi dall'Australiano Glen Scott dopo una battaglia terminata sulla bandiera a scacchi.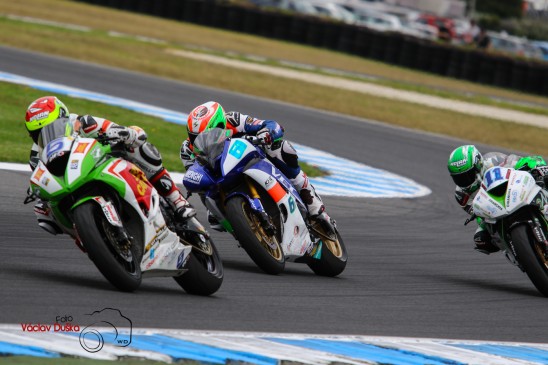 Fabio Menghi , 15° posizione – "Sono felice di essere andato a punti nella prima gara della stagione ma sono un po' frustrato perché ho dovuto faticare un po' troppo nell'ultimo settore di pista durante la gara. Il mio team è completamente nuovo ma l'atmosfera che si respira è fantastica e siamo fiduciosi di poter migliorare ancora di più nel corso della stagione".
Il secondo round del Mondiale Supersport avrà luogo in Tailandia, nel nuovissimo Buriram circuit il 22 Marzo