Talented American teen Jayson Uribe will swap Britain for French soil in 2015 after signing to ride for the Race Experience Junior team in France.
Uribe, who finished an impressive 3rd overall in the 2014 BSB Motostar championship, will campaign a CBR 600cc Honda in the French Superstock 600cc series looking to build upon an already succesful couple of seasons in Europe.
For Uribe, the transition to the larger 600cc Honda machine is not totally alien, the youngster having raced the final round of the CEV Moto 2 Championship at Valencia, impressing many with his raw speed and ability to learn quickly.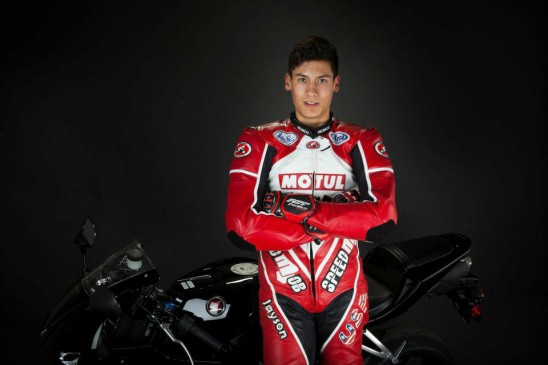 Relocating from California to the small village of Fayence in Southern France, Jayson will continue his schooling whilst abroad and as part of the programme Jayson will also study French. He is planning to train in the nearby mountains with former World Endurance Champion Sebastien Gimbert who is a key figure within the Race Experience Junior Team to ensure he is in the best physical condition for the year ahead.
Jayson Uribe: "I have been eager to take the next step in my racing career and move up to a larger cc bike. When Race Experience Junior offered me the chance to train with world class athletes and to race in another International championship I knew that this was the challenge I had been waiting for. I cannot wait for the first test in France in a couple of weeks. Thank you to everyone who has made this possible."
Sebastien Gimbert – Rider Coach: "I am excited about this new challenge for our team. We have two promising riders that we strongly believe in Superstock 600cc and a new rider in Moto 3. The 3 riders we have chosen have no experience in the categories that they are racing in but we will do everything that we can to help them be competitive thanks to our experience and working methods."
Jayson will make history by becoming the first American to contest the series and both he and the entire Race Experience Junior squad are optimistic of the season ahead.
You can follow the progress of the Race Experience Junior Team throughout the year by checking out their official website: www.raceexperience.fr