With just over 2 weeks until the start of the international Road Racing season Italy's Fabio Menghi has been unveiled as VFT Racing's sole entry into the 2015 World Supersport Championship.
Menghi will campaign a Yamaha R6 in the series which will once again run alongside the prestigious World Superbike Championship at 13 venues around the globe.
The iconic Phillip Island circuit that hosts the opening round on Feb 22nd holds fond memories for Fabio, the Italian grabbing a top ten finish last year before racing to a career best 6th at the iconic Imola circuit later in the season.
VFT Racing are delighted to unveil a new association with KME Technology, announcing a completely new team of mechanics and technicians as part of their collaboration.
Fabio Menghi: "I've missed racing over the winter so I cannot wait to arrive in Australia for the opening race at Phillip Island. We had a good start to the season last year so everybody in the team is confident that we can have an even better start this year. I want to thank my family, all my sponsors, especially KME Technology for the opportunity to race this fantastic championship again."
VFT Racing will also contest the FIM Europe Superstock 600cc Championship in 2015 with Italian rider Christopher Gobbi remaining with the squad for a second season. With a best result of 11th at Assen, Gobbi will be joined by a yet to be announced team mate.
Valerio Menghi – Team Manager: "I am very happy to confirm VFT Racing's plans for this year. We have worked hard during the winter and are optimistic of building on our successes from 2014. Fabio is ready for Australia so we head to Phillip Island confident. Christopher is young and extremely fast so to have him remaining in our Superstock team delights us and we will support him as much as we can to achieve the podium."
VFT Racing will take part in the official World Supersport tests at Phillip Island on the 16th and 17th February ahead of Round 1 which will take place a few days later.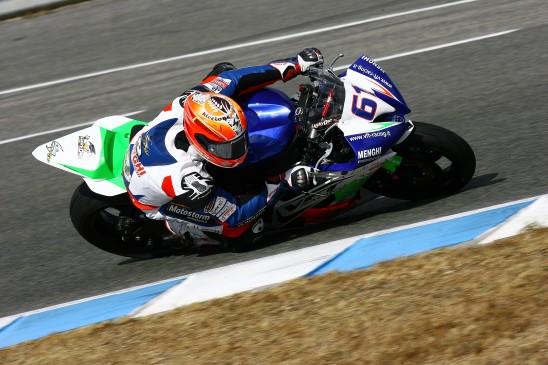 VFT annuncia i propri piani per la stagione 2015 del Campionato del Mondo Supersport e STK600
A poco meno di 2 settimane dalla partenza del campionato riservato alle derivate di serie, l'italiano Fabio Menghi sarà il solo pilota del team VFT Racing iscritto alla stagione 2015 del Mondiale Supersport. Menghi guiderà una Yamaha R6 nella classe Supersport, che affiancherà il prestigioso Mondiale Superbike sui circuiti più belli del mondo.
Lo storico tracciato di Phillip Island, in Australia, che ospiterà la gara di apertura del Mondiale il 22 Febbraio, è una pista ricca di ricordi per il rider italiano, che nel corso della stagione ha concluso una gara in top 10 insieme al proprio record personale grazie al 6° piazzamento ad Imola.
La VFT Racing è lieta di annunciare la propria partnership con KME Technology e, per la nuova stagione, in quanto parte dell'accordo, metterà in campo una squadra tecnica completamente rinnovata.
Fabio Menghi: "Non vedo l'ora di poter tornare a correre a Phillip Island, in Australia, soprattutto dopo la pausa invernale. Lo scorso anno abbiamo cominciato bene il campionato e tutti nel team sono fiduciosi di poter replicare questa prestazione anche nella stagione 2015. Voglio ringraziare la mia famiglia, i miei sponsor, specialmente KME Technology per l'opportunità di correre nuovamente questa fantastica avventura mondiale"
VFT correrà anche nel Campionato Europeo STK600 nel 2015 con il rider italiano Christopher Gobbi, in sella alla Yamaha del team per il secondo anno di fila; forte di un 11° piazzamento come best score, l'Italiano verrà affiancato da un altro pilota non ancora confermato.
Valerio Menghi – Team Manager: "Sono molto felice di poter confermare i piani del Team VFT Racing per questa stagione. Abbiamo lavorato sodo  durante l'inverno e sono fiducioso che ci aspetterà una stagione di successi. Fabio è decisamente pronto per la trasferta in Australia così partiremo per Phillip Island con grande ottimismo. Christopher è giovane ed estremamente veloce ed il saperlo ancora con noi per questa stagione ci fa davvero piacere: gli daremo tutto il nostro supporto per metterlo in condizione di lottare per il podio."
VFT prenderà parte ai test di Phillip Island il 16° e 17° Febbraio, in vista del primo round del Mondiale previsto per la settimana successive.