As the start of the 2015 Superbike World Championship approaches, Talmacsi Racing are working hard to finalise their plans ahead of the European Championship season beginning in April.
Building on their success of 2014, Talmacsi Racing have some ambitious plans for the coming year including entries into both the FIM Europe Superstock 600cc Championship and the European Junior Cup.
The team will once again be fronted by former 125cc World Champion Gabor Talmacsi who since retiring from competition is relishing his new role of Team Manager.
With Italian Alessandro Zaccone already confirmed as one of their STK600 entrants, Talmacsi Racing are still looking for a suitable second Superstock rider and ask anyone interested in potentially joining their competitive and professional team to contact them via email: talmacsiteam@me.com
Talmacsi Racing will once again campaign Honda CBR600cc machines in the 2015 Superstock 600cc Championship and are confident of building upon their result of last year in which they proved on more than one occasion that they are a team that could well challenge for top honours.
In relation to the European Junior Cup, Talmacsi Racing will once again have a presence with Alexander Somosi being the rider of choice. The Hungarian youngster took part in a handful of races in 2014 and now that he is old enough to contest the full series Somosi is looking to show what he is capable of.
Additional information about Talmacsi Racing can be found on the team's official website: www.talmacsiracing.com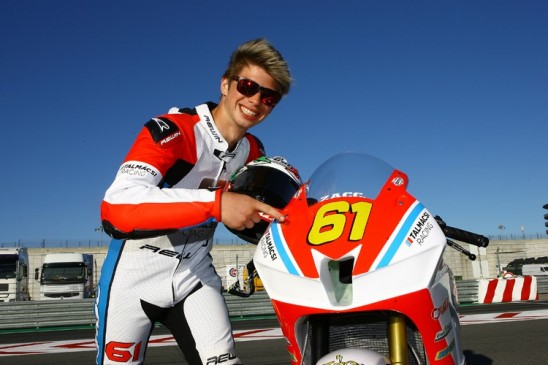 Gabor Talmacsi – Team Manager: "For 2015 we will remain in the STK600cc category with Honda. We know after our first full season last year what we need to improve and our team of Italian mechanics are ready. We signed Zaccone in December for the 2015 season, he is a great talent and we are very happy to continue with him. Our second bike is still available and I hope to hear from riders that would like to join our project. In addition to the 8 races in the FIM Europe Superstock 600cc Championship we will also participate in the Italian Honda Trophy Championship which will be good for additional testing. We will also run Alexander Somosi in the EJC. He was the youngest ever rider in the series last year and for 2015 he can do all the season with my management continuing to support him."
Alessandro Zaccone – STK600 Rider: "I'm training hard to be competitive right from the first race. My goal is to fight for the title, the team works very well and we have a lot of good feeling after 2014 so I am really happy to be able to continue to stay with this team. I'm also learning English as I know that this is important for my career also. Thank you to all my sponsors and to Talmacsi Racing, I am looking forward to Aragon."
photo of Alessandro Zaccone and one of our CBR 600cc machines.