CF Motosport are pleased to announce their 2015 plans that will see reigning National Superstock 600cc Champion Kyle Ryde spearhead the team's assault on the British Supersport Championship.
The team will be known as Pacedayz.com European Trackdays, once again receive support from Bowie Construction, Fuchs silkolene,  K-Tech Suspension, GBRacing, Smartfit, Kustom Coatings and be managed by former Supersport front runner Craig Fitzpatrick.
Kyle Ryde secured the National Superstock 600cc in a tense but exciting final round at Brands Hatch and will remain with the team, stepping up to the ultra-competitive British Supersport series next year after a season that saw the former 125cc GP Champion claim 5 victories on his way to Superstock championship victory.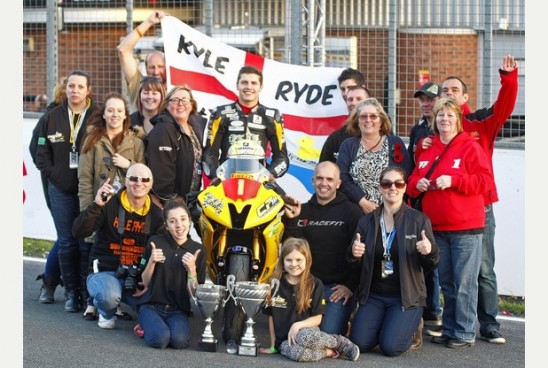 Kyle Ryde – British Supersport: "This year has been great for me, I couldn't have asked for more. I want to thank everyone especially all of my sponsors, the whole team and Craig's lads did a mega job! For next year it's a no brainer to stay with Craig on the CF Motorsport Supersport bike. The bike is as quick as anyone's and also me, Craig and the rest of the team are really good together. I'm also looking forward to watching Ross Twyman and Ben Currie in Superstock. I'll try my best to help them and I'm sure they will push me to get the best out of my debut season in Supersport. I can't wait for testing to begin in Jerez in March!"
CF Motorsport have been at the forefront of the National Superstock 600cc series for a number of seasons and after winning the title in 2014 they will return to defend their crown in 2015 with Ross Twyman and Ben Currie at the helm. Both riders have experience in the series with Twyman taking a career best 4th position in the 2014 season finale at Brands Hatch after a season that saw him assisted by CF Motorsport as a satellite rider.
Ross Twyman – Superstock 600cc: "This year was my first on a 600cc after riding in the Aprilia 450 Championship run at Thundersport GB. I didn't expect much from this year as I had just jumped on the 600 and was still getting to grips with it. We bought the bike from Craig and when we joined BSB Craig was helping us with setup etc. which was a massive help. I raced in 8 rounds out of the 12 this year and for the last two Craig offered me a place in his team and I had my two best races just missing the podium at Brands. I am really looking forward to next season with CF Motorsport as I already have a good relationship with them and I know what they are capable of. With Kyle remaining with the team it gives me the confidence to push myself even more as he has so much experience that I can learn from and my aim is to replicate what he has done this year. I want to say a big thank you to Craig and the team for giving me this opportunity."
Australian Ben Currie finished 15th overall in 2014 with a best result of 5th at Oulton Park in May and is relishing the opportunity to be part of the team next year.
Ben Currie – Superstock 600cc: "I'm so thankful for the opportunity that the Pacedayz.com European Trackdays team have given me for 2015 and I'm really looking forward to returning to the UK early next year so that testing can begin. The team have proven how competitive they are and I'm looking forward to the first race"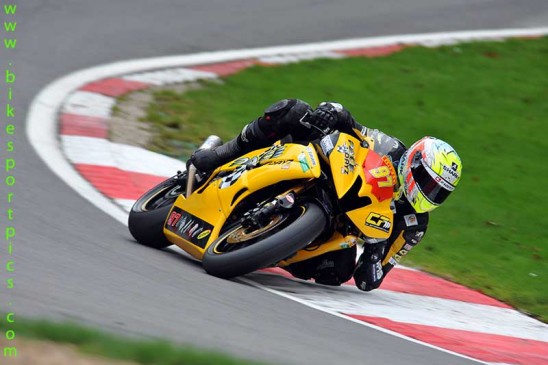 Craig Fitzpatrick – Team Manager: "I'm really excited for 2015 and I'm really looking forward to working with these 3 lads. I really enjoy working with Kyle. He's a great lad and moving up to Supersport I think is natural progression for him. I'm sure he's going to do very well in the championship as he is a class rider! I worked with Ross all last year behind the scenes, helping him on one of my bikes. He rode for me in Pacedayz.com European Trackdays colours in the final races and achieved very good results so I'm really looking forward to taking him to the next level in 2015. Looking at Ben's results from this year I'm sure we can get him right up at the sharp end in 2015 and I am looking forward to him joining the team. We have pre-season tests scheduled in Spain, we are ready and can't wait to get underway. Finally it goes without saying that big thanks go to all our sponsors for their continued support. I hope to repay you with some more great results next year."
With several months until the 2015 gets under way, CF Motorsport have a number of opportunities for those companies that are interesting in partnering with them. Please contact craig@cfmotorsport.co.uk for more information.