After making into Tissot-Superpole for the very first time in both his and the brands World Superbike career, Geoff May will start tomorrow's 17 lap races under the floodlights of the Losail International circuit from 19th position, the best of the season.
Team mate Aaron Yates will start 22nd after narrowly missing the chance to take part in Superpole by a fraction of a second.
FP4 was uneventful for the pair, and after a solid run in Superpole 1 for Geoff, both riders are prepared to fight hard for World Championship points tomorrow.
Geoff May: "It was great to finally be able to take part in Superpole. We have worked hard for this all season and after coming so close on a number of occasions I think we deserved it. The team is doing a great job this weekend, and with the additional support from America I really think we are on the right track. Tomorrow's races will be exciting and I will be giving it 100% to score points."
Aaron Yates: "We continued to work hard today in FP4 and we are as ready as we can be for the races. The bike is working well here in Qatar and I am looking forward to having a strong end to the season aboard the 1190RX. If we could end the season in the points it would be a perfect way to repay the team after all their hard work and their never give up attitude since the opening race back in February."
May e Yates pronti per la gara in Qatar
Dopo essere entrato per la prima volta in Superpole, Geoff May partirà dalla 19° posizione la prima gara in notturna del Superbike World Championship, sotto le luci del Losail International Circuit. Il compagno di squadra Aaron Yates partirà dalla 22° casella, dopo aver mancato per una frazione di secondo l'ingresso in Superpole.
Le FP4 hanno registrato simili prestazioni per la coppia americana e, dopo una prova tenace per Geoff durante la Superpole 1, entrambi sono pronti per dare il massimo durante la gara di domani.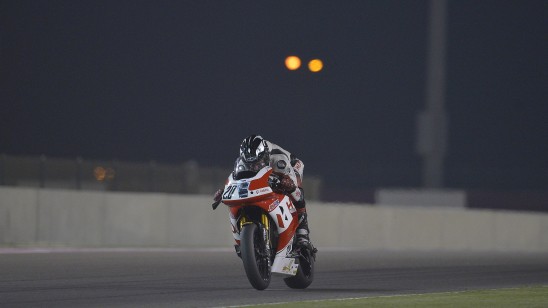 Geoff May – "È stato fantastico entrare finalmente in Superpole. Abbiamo lavorato sodo per tutta la stagione e dopo esserci andati così vicino, credo che ce lo meritassimo davvero. Il team sta facendo un gran lavoro questo fine settimana e, grazie al supporto dall'America, penso che siamo sulla strada giusta. Le gare di domani saranno davvero entusiasmanti e darò il massimo per arrivare a punti."
Aaron Yates – "Abbiamo continuato a lavorare duro durante queste FP4 e siamo pronti per la gara. Mi trovo bene con la moto qui in Qatar e mi auguro di avere un bel finale di stagione in sella alla mia EBR 1190RX. Se riuscissi a concludere a punti questa gara sarebbe il ringraziamento migliore per gli sforzi intrapresi dal mio team durante la stagione, per non aver mai perso la giusta attitudine sin dalla prima gara."