Under the floodlights of the Losail International Circuit in Qatar, Team Hero EBR ended the opening day of their desert debut in 20th and 22nd positions with Geoff May and Aaron Yates completing a total of 76 laps between them over the 3 Free Practice Sessions.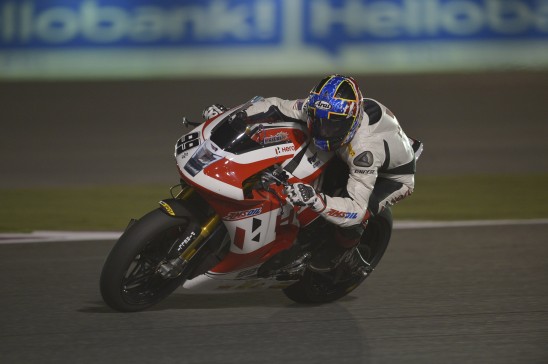 Geoff's result gave the team a real cause for celebration as after a season of hard work and determination they made it into Tissot-Superpole for the very first time!
Both riders were once again required to learn the Qatari circuit but with more than half of the field also new to the track things were a little more levelled than usual.
The EBR 1190RX machines worked well throughout, and despite the 1km main straight both Geoff and Aaron were able to make progress in every session, the Americans visibly happier with the way in which the opening day went.
Geoff and Aaron will take part in FP4 tomorrow evening before Geoff becomes the first rider in EBR's short World Superbike career to venture onto the circuit aboard his 1190RX in Superpole.
Geoff May – "This is a great result for Team Hero EBR and shows what hard work, determination and belief can do. Coming here to Qatar for the final round I had 2 objectives, the first was to make it into Superpole after missing out by thousandths at Laguna and the second was to score World Championship points. We have accomplished the first and we will see on Sunday if we can achieve the second. I gave it everything and was either going to make it into the top 20 or bury the bike in the sand trying (laughs). The team are doing a great job and it's good to have my ex crew chief from when I rode with EBR in the states with me. Let's see what we can do tomorrow."
Aaron Yates – "Today was really positive and had things worked out we could have maybe had both bikes in the top 20. I was able to go faster each session and the bike is working really well here in Qatar. The fast flowing nature of the track and the long series of corners is helping us and we can show how agile the EBR is. We will continue to work hard in FP4 and push hard to improve some more. Congrats to Geoff on making it into Superpole, I hope to fight with him inside the points in both races on Sunday."