The penultimate round of the World Supersport championship may not have been the success that Fabio Mengi and his VFT Racing team wanted but nevertheless the Italian is putting another frustrating weekend behind him and focusing on the season finale in Qatar.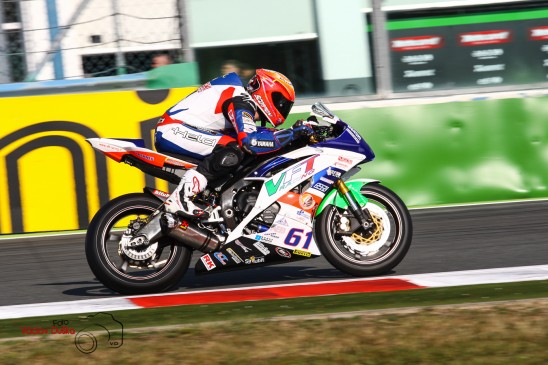 For Menghi the recent run of bad luck continued in France as the technical problem that has plagued him on more than one occasion appeared to hinder him yet again.
The issue it seems is engine related and at Magny-Cours yesterday Menghi had to contend with a grid penalty for changing the engine in his Yamaha before retiring from the race in the early stages.
Despite the non finish both Menghi and the team are looking ahead to the first ever night time race at the Losail circuit in Qatar, hoping that with Lady Luck smiling on them they could find the form in the final round that saw them inside the top six earlier in the year.
Fabio Menghi – "I really don't know what to say. Just when we think we have fixed the problem it happens again. Having to start with the penalty was always going to make it tough here in France and then to make things worse the rain came. We are working hard to be strong in Qatar because we have shown that when things go right we can fight at the front. Thanks to the whole team for staying positive, thanks to all my sponsors and thanks to everyone who is supporting me."
Menghi si lascia alle spalle Magny Cours e si prepara per il finale in Qatar.
Il Penultimo round del Mondiale Supersport non sarà stato quel successo che Menghi ed il VFT Racing Team si aspettavano ma nonostante tutto la compagine è pronta a lasciarsi alle spalle un altro difficile weekend e si prepara per il finale di stagione in Qatar.
Per Menghi la serie sfortunata è continuata anche in Francia, dove un problema tecnico che si è più volte presentato nel fine settimana sembra averlo ostacolato ancora una volta. Tale problema sembra sia stato riscontrato nel motore e a Mangy Cours, ieri, Menghi ha dovuto fare i conti con una grid-penalty dovuta al fatto di aver sostituito il proprio motore, prima di ritirarsi inesorabilmente dalla gara durante i primi passaggi
Malgrado il ritiro sia Menghi che il Team guardano adesso alla prima gara in notturna del Mondiale a Losail, in Qatar, sperando che la fortuna finalmente gli sorrida e che, quindi, possano ritrovare un bel finale di stagione in top 6, come era successo all'inizio di questa stagione.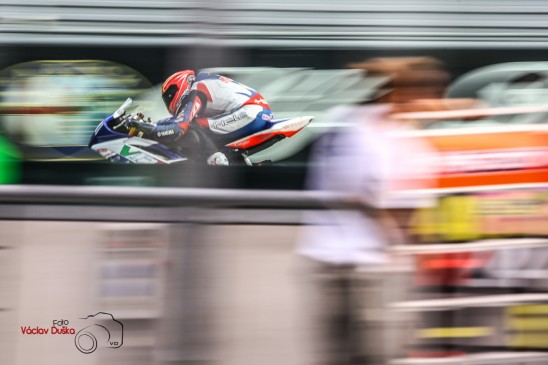 Fabio Menghi – "Non so proprio cosa dire. Proprio appena credi che di aver risolto un problema, si ripresenta di nuovo. Dovendo partire dalla griglia a causa della penalità è stata davvero difficile qui in Francia, poi, per peggiorare la situazione, è caduta anche la pioggia. Stiamo lavorando sodo per arrivare pronti alla gara in Qatar, perché abbiamo dimostrato che quando le cose vanno nel verso giusto possiamo combattere con i primi. Ringrazio tutto il team per essere sempre positivo, un grazie anche a tutti i miei sponsor e a tutti quelli che mi supportano."
photos taken during Free Practice courtesy of Vaclav Duska Jnr.