Russian Vladimir Leonov's World Supersport race at Magny-Cours in France was over in handful of laps as the Rivamoto Honda rider slid to earth in the early stages.
Having qualified 15th both he and the team were looking forward to a strong race but must now contend with the fact that their final appearance of 2014 could have ended better.
Despite the non finish in the race, Rivamoto Honda are pleased with what they have been able to demonstrate in their Wildcard races and are hopeful of being able to contest the full series in 2015.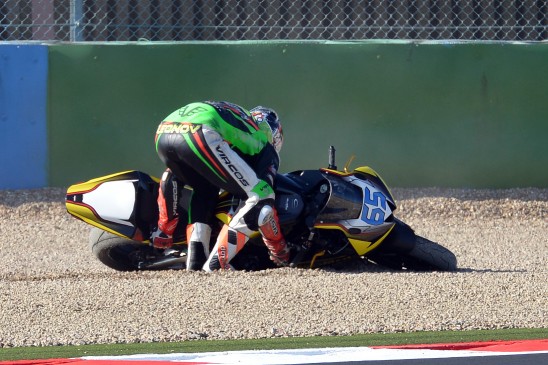 Konstantin Zotov – Team Manager: "We are obviously disappointed to not finish the race after such an encouraging qualifying session but this is racing and anything can happen. I am happy that Vladimir is unhurt but am delighted with the way that he and the team worked here in France. It's the first time that Rivamoto has used an all Russian crew and it worked really well. We are working hard to ensure that we can be here full time in 2015!"
photos courtesy of Formula Photographie.