Despite failing to finish the final race of the FIM Superstock 1000cc of the season at Magny-Cours earlier today the Hungarian based H-Moto squad declared themselves happy after a competitive season saw them top ten finishes and finish a respectable 13th position in the overall classification.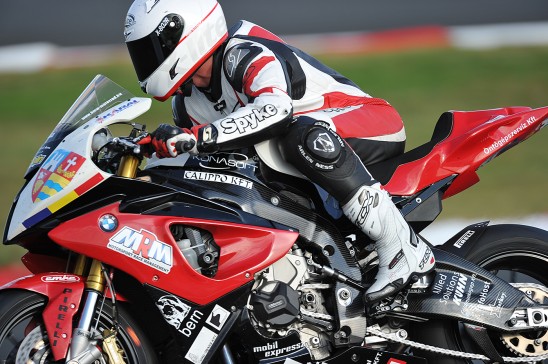 Their rider Robert Muresan also produced the best ever race finish by a Romanian rider with a fighting 8th position at Imola before a consecutive run of point scoring finishes ensured a solid final position in the standings.
The team wish to thank Robert for his dedication and hard work during the year and to their sponsors and partners for the ongoing belief in their project.
Krisztian Keleman – Team Manager: "We have had a really encouraging season. Robert has helped us to reach new levels with the BMW and we thank him for his hard work. I want to personally thank all of our partners and sponsors and hope that together we can continue in 2015 where we hope to run a 2 rider team. I want to also say a huge thank you to our team, the crew, technicians and everyone that has helped us through the season, without them we wouldn't have achieved the good results."
Robert Muresan: "I have a lot of satisfaction from the season. I became the highest placed Romanian rider to date and the H-Moto team is like a family. I hope that we can continue in 2015 and I thank them for believing in me. Today's race was strange, the weather didn't help and I am sorry that we had to stop but this is racing."
photos courtesy of Formula Photographie.