Vladimir Leonov will start the penultimate round of the World Supersport championship from 15th on the grid aboard his Rivamoto Honda after an encouraging qualifying session at Magny-Cours this afternoon.
Despite missing the opening practice session of the weekend, the RIvamoto team have worked hard to bridge the gap to the front and are confident of a strong performance in tomorrow's race come rain or shine.
For Vladimir it's clear to see that had there not been a technical problem on Friday, today's qualifying position could possibly have been one inside the top ten.
Nevertheless both he and the entire team are optimistic ahead of the 19 lap race tomorrow.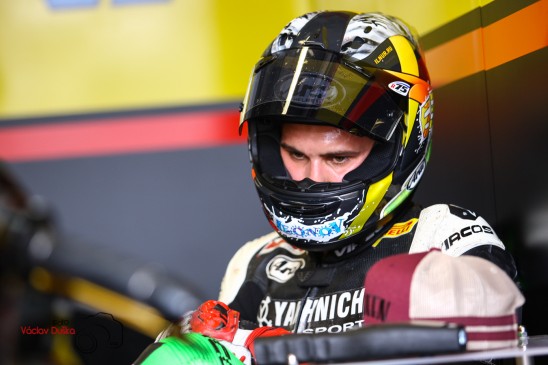 Vladimir Leonov – Rider: "For sure I am much happier today. We were able to complete both sessions with no problems and the bike is getting better and better. Tomorrow there is a chance of rain so we will decide then what we do in terms of set-up but if it's dry then we have a few ideas to try in the warm up tomorrow morning. Whatever the weather we will give our best to achieve a strong result. Thanks to the team for all their hard work."
Konstantin Zotov – Team Manager: "We really enjoyed today's session. We are still not where we want to be in terms of ideal setting but after missing the whole of FP1 we are pleased with the progress that we have made. Looking at the times I think that we had pace to be in the top ten but we just didn't have enough time. The whole team is looking ahead with optimism and I can honestly say that as both a Crew Chief and Team Manager I'm happy that Vladimir is now enjoying the bike. Fingers crossed for tomorrow."
photos courtesy of Vaclav Duska Junior