The penultimate round of the FIM Superbike World Championship began earlier today at Magny-Cours in France with Team Hero EBR back in action on yet another new circuit for the all American squad.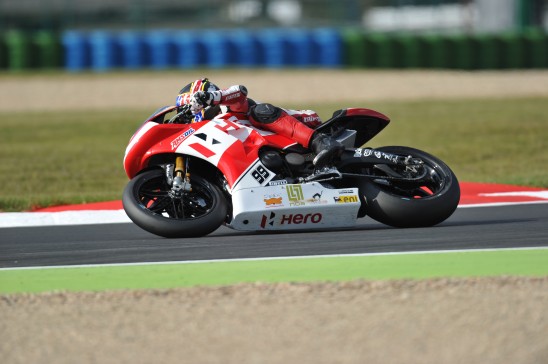 With the sun having burned away the morning fog conditions for riding were almost perfect as the riders took to the circuit.
FP1 was for the most part without incident with both Geoff May and Aaron Yates able to make big strides forward in the afternoon's FP2, Geoff ending the session 24th and Aaron 27th.
Both riders will now regroup overnight and aim to improve still further in the final FP3 session tomorrow morning, hoping to make it into Tissot-Superpole for the first time this year.
Geoff May: "The track isn't the easiest to learn but overall we made good progress today. We have a new spec engine from EBR in the USA and I have Mike Fitzgerald who was my Crew Chief in AMA with me this weekend too, to help my find my old feeling with the bike. The new engine has a little bit more HP throughout the range and after today I am confident we can further improve tomorrow."
Aaron Yates: "It's an interesting circuit but it's enjoyable to ride. We made some minor changes between sessions and improved our time and I am confident that we will improve again in FP3 tomorrow. The whole team is working well and continues to push so thanks to them for all their efforts."

ANCORA PASSI IN AVANTI PER IL TEAM HERO EBR DURANTE LE FP1
 Il Penultimo round del mondiale SBK è iniziato questa mattina presto sul circuito francese di Magny Cours con il Team Hero EBR pronto ad affrontare l'ennesima sfida su di un circuito ancora sconosciuto.
Grazie ad un sole caldo che ha cancellato ogni traccia di nebbia, le condizioni per correre sul tracciato sono state delle migliori: Le FP1 non hanno presentato incidenti per i piloti e sia Geoff che Aaron sono riusciti a migliorarsi durante i due turni di prove, concludendo rispettivamente in 24° e 27° posizione. Entrambi i rider americani stanno già riorganizzando le idee per affrontare al meglio il terzo ed ultimo round di prove previsto per domani mattina, nella speranza di poter finalmente accedere alla Superpole.
Geoff May: "questo circuito non è certo uno dei più semplici da imparare ma tutto sommato abbiamo fatto un buon passo in avanti quest'oggi. Abbiamo un nuovo motore che ci ha fornito EBR e posso contare sul supporto di Mike Fitzgerald, il mio capo meccanico nel campionato americano, che mi seguirà per tutto questo round per aiutarmi a trovare il mio vecchio feeling con la moto. Il nuovo motore ha un po' di potenza in più e dopo le prime impressioni sono fiducioso che potremo migliorare ulteriormente domani."
Aaron Yates: "è sicuramente un circuito impegnativo ma al tempo stesso piacevole da guidare. Abbiamo fatto qualche piccolo cambiamento tra le due sessioni e abbiamo migliorato il nostro tempo. Sono convinto che riusciremo a migliorare ancora nel terzo turno di prove domani. Tutta la squadra sta lavorando bene e desidero ringraziarli per il continuo supporto."
photos courtesy of Kel Edge.