At just 14 years and 14 days, Troy Bezuidenhout became one of the youngest ever rider to score points in the European Junior Cup and to make that feat even more impressive it was his debut race in the series AND in Europe!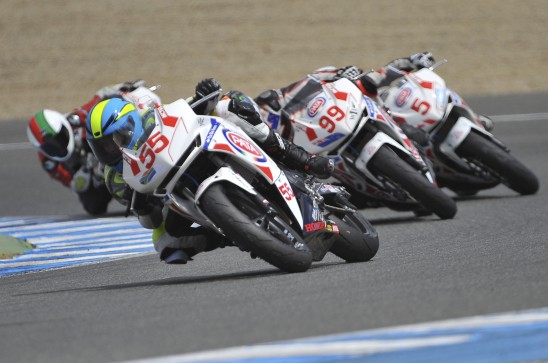 Qualifying 12th and finishing 13th in a race where the top 8 are covered at the flag by half a second is one thing but for Troy Bezuidenhout he hadn't ever seen the track or ridden the bike. With only 75 minutes track time before his first ever race at this level to say scoring 3 points is an achievement is a massive understatement.
The initials TB were last made famous within the World Superbike paddock by the Aussie legend that is Troy Bayliss, but one young rider from South Africa is hoping that having the same initials will be an omen for a little piece of history repeating.
The youngster who hails from Johannesburg will contest the entire 2015 EJC series and following his successful ride in Jerez last weekend will also contest the season finale at Magny-Cours in France as a prelude to what many are already saying will be a front running season. Troy's young career has already seen him notching up numerous victories back home on a Moto 3 machine as well as posting some impressive lap times on a Supersport 600cc machine and with his performance first time out in Spain, in what is arguably one of the most competitive championships for the stars of the future, it's no wonder so many in the know are already taking note.
Troy has many idols including Valentino Rossi, Jorge Lorenzo, Dani Pedroas, Jonathan Rea and Leon Haslam, but his family too has a racing pedigree. His father was a top National series competitor and his grandfather is a former sidecar racer who even raced at the TT on the Isle of Man.
The Bezuidenhouts are a close knit family, and as part of his 2015 preparation, Troy has relocated to Spain where he will live with his older sister Bianca, attend a local school and learn Spanish as part of plan that it is hoped will see him rise through the ranks and into World Championship level competition at the earliest opportunity.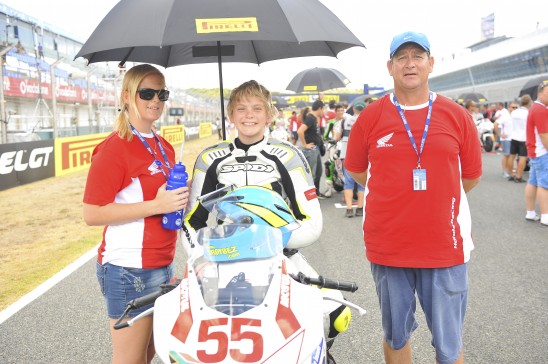 Troy Bezuidenhout: "My weekend was great. Friday first practice was about getting used to the bike and track and I managed to adjust quickly. In first qualifying I started to push a little harder and I ended up 15th. Second qualifying was much better after a couple changes to the bike and I was two seconds faster than my previous time. I ended up 12th meaning a 4th row start for the race. My start was absolutely terrible and by the second turn I was back in 21st. I worked up to 15th place by the end of the first lap but by the time I had passed the group the gap was just too big to improve further. Finishing 13th on my debut is not so bad and I certainly learned a lot. I would like to thank my mom, dad, sister, David Wisdom and Michael for all the help and support. Bring on Magny!"
With so much speculation that top level Supersport and Superbike racing will return to South Africa in the coming years there is a real possibility that we could not only see a home win for the nation, but it is hoped, another chance to see a rider with the initials TB lifting a World Championship trophy.
For more information about the opportunities to support Troy during 2015 please contact in the first instance: michael@michaelhillpromotions.com
photos courtesy of The Bike Insurer.