Despite crashing out of the battle for the final podium place in the opening race of the weekend at Donington Park on Saturday, Jayson Uribe bounced back with a fighting 4th overall in yesterday's second race aboard his FPW Honda.
Because of the Cadwell Park race cancellation due to bad weather, the weekend was a little different for the BSB Motostar competitors with a race on Saturday as well as their usual Sunday race.
Running a strong 3rd  in the first encounter, Jayson unfortunately saw his run of consecutive point scoring finishes come to an end courtesy of a high speed crash as he negotiated the Craner Curves. Thankfully unhurt he was declared fit for race 2 and after starting from the back of the grid because of technical problems in the qualifying he steadily worked his way through the field to claim 7th at the flag, the 4th rider within the Moto 3 category.
The weekend on the whole was still a positive one and Jayson retains his 3rd position in the overall  standings as the championship heads to the Netherlands for the next round in a fortnight.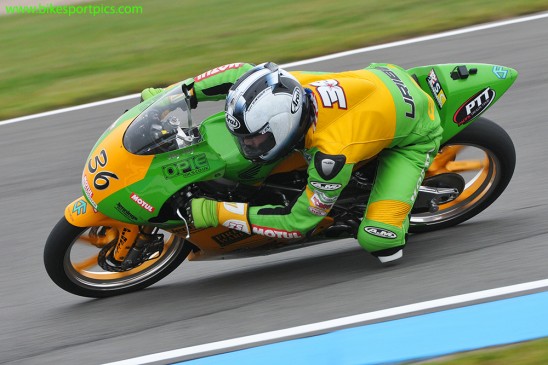 Jayson Uribe – 3rd in the BSB Motostar Championship standings after Donington Park: "We had a tough weekend. We struggled with bike issues in every session, but we definitely learned a lot. I only managed around 10 laps of practice before race 1, due to fuelling issues and one small wire that was throwing everything off. I was feeling a bit nervous as spots of rain were starting while we were waiting on the grid. I got a good start and settled into 3rd position for my class. I got passed on lap 5 which knocked me off the podium, so I upped my pace but unfortunately crashed flat out in 6th gear going down the left hander of Craner Curves. There was minimal damage to the bike and I was soon fixed up at the medical centre and cleared to start race 2. I started dead last as my bike cut out before I managed a single lap in qualifying but I managed to work my way up to 7th overall and had a great battle on the last few laps to take 4th in the Moto 3 category. With everything that happened I am happy with my performance in race 2. I tried my best and we beat who we needed to beat to retain 3rd position overall in the Moto 3 championship."
photos courtesy of Ian at bikesportpics.com.