Alex Wisdom (CADS Racing) raced hard in the penultimate round of the PATA European Junior Cup at Jerez this afternoon and was rewarded with a 16th place finish at the end of 10 exciting laps that saw save what looked like being a huge high-side crash on the final lap, dropping him out of the points.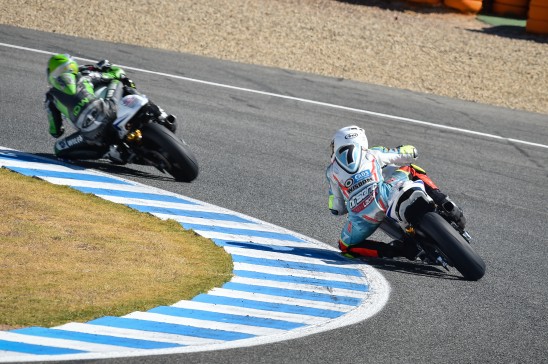 After qualifying 18th Alex was a little disappointed, but an evening of studying data, circuit sector times and a few small changes to his CBR500cc machine soon had the determined young American moving forward.
From the start he slotted into 14th before a race long dual with a number of his rivals ensued.
As the riders began their final lap it looked as though Alex was destined for another point scoring finishing but after almost crashing on the final half of the lap he would eventually finish 16th.
The final round of the series is in France at the Magny-Cours circuit in 3 weeks.
Alex Wisdom: "I don't like to make excuses but I still wasn't 100% happy with the bike. Nevertheless I dug deep and despite being so far back on the grid I was soon in a point scoring position. I managed to pull a small gap but I made a mistake and almost crashed. I lost two places as I tried recover but by that time the chance of scoring points had gone. That's racing and on the up side I am happy that we went a lot faster in the race than I managed yesterday. With one race to go I want to end the year back in the points and I will be giving it everything in France. Thanks to my dad, to CADS Racing and to everyone that is supporting me."
photo courtesy of highsidePR/ToniBorner