With less than 4 hours track time Rivamoto Honda declared themselves happy after Vladmir Leonov claimed 12th position and 4 World Supersport championship points on their return to the series at Jerez this afternoon.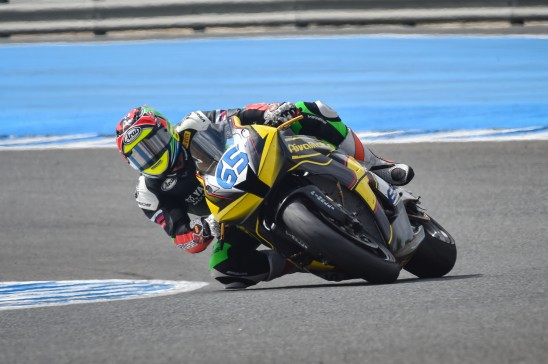 For Leonov it was the first race for several months, his first on a Honda and the first time he had ridden a bike with drive by wire fitted since 2010. Combine this with the limited track time across the weekend and the technical issue in qualifying at the result is even more impressive.
From the start, the steps forward made by the team overnight were clearly evident as Vladamir was soon several places ahead of where he qualified and battling hard on the fringe of the top ten.
At the flag, and after an intense race long fight that saw him close to within 0.6s of the fastest race lap Leonov crossed the line to claim a well deserved 12th position on his Rivamoto race debut.
Looking ahead, Rivamoto make no secret of wanting to be back in the World Supersport Championship full time in 2015 and ask any parties that may be interested in collaborating to get in touch via email: zotov@rivamoto.com
Konstantin Zotov – Team Manager: "It was a really positive weekend for us, one that we really enjoyed. It was great to be back in the paddock. We improved session by session which was the initial target and in the race itself we were considerably faster than qualifying. We definitely found a good direction overnight and in the warm up and to be only 0.6s from the outright fastest lap of the race is encouraging. We want to be in Magny-Cours but at the moment we don't have everything in place that we need to allow us to be there. From the team side of things we are trying everything we can to continue because we want to prove that we are still more than capable of top ten results. We can't forget also that Vladimir had a tough job this weekend, not only had he not raced for 3 months but he had never ridden a Honda or a bike with drive by wire since 2010. We give credit to him and am pleased that he can show his ability to fight with limited track time in these circumstances. We want to stay in the championship and are looking at any possibility. Thanks to everyone this weekend both inside the team for their dedication and for the support that we received within the paddock."
Vladamir Leonov: "It's been a good weekend and I am happy to be back racing again. We found a better solution for the race but overall we just didn't have enough time to make it perfect, especially with the issue in qualifying. Nevertheless the team did a great job and everyone is very motivated so a big thanks to them. In the race I got a good start and was involved with a lot of fighting but as I said we just needed a bit more time to improve things more. I hope that we can continue in France but right now I don't know. Thanks again to the whole Rivamoto team and to everyone that supported us this weekend."
photos courtesy of highsidePR / Toni Borner