Because of heavy rain, the latest round of the BSB Motostar championship at Cadwell Park was called off on safety grounds with the race to be scheduled to run at one of the remaining races, possibly Donington Park. Yesterday's cancellation meant that Jayson Uribe was unable to race at the iconic Lincolnshire circuit, famous for its mountain jump, and the youngster will therefore have to wait until the next event to add to his already impressive, record breaking run of point scoring finishes in BSB.
Putting the race aside, Jayson had an up and down weekend, suffering two crashes, both at Park Corner  before recovering  to secure a 3rd row of the grid starting position with a fighting 7th on the overall timing sheets.
Race day dawned with clear skies and Jayson strung together a solid morning warm up, finishing 2nd overall and was optimistic of being able to race towards the front when the race got underway.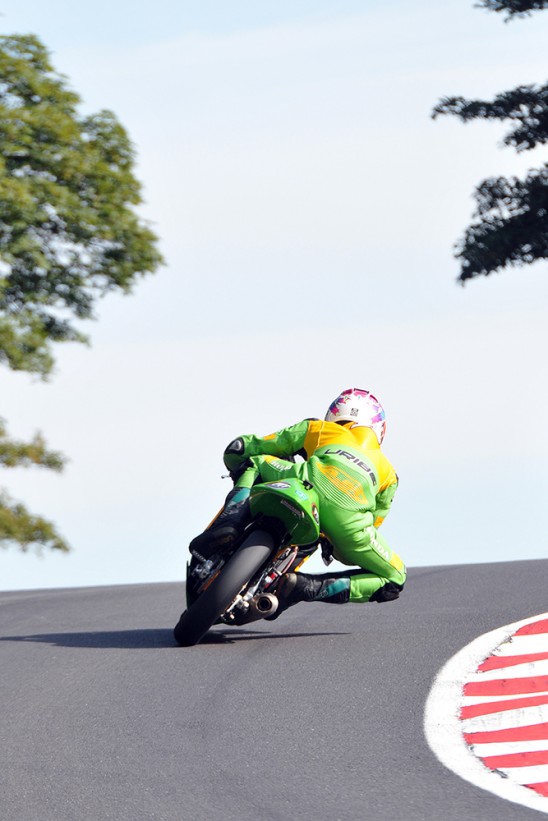 The  Motostar race was scheduled to run  last on the day's programme of events but with rain falling the organisers deemed the circuit conditions unsafe and postponed it. Nevertheless, Jayson once again showed his skills, not only at mastering the technical and daunting Cadwell Park but also at being able to overcome a couple of minor setbacks and still feature strongly.
Jayson Uribe: "The weekend went well for me. I had a couple of little offs but we learned a lot about bike set up and fuel injection. Jumping the mountain was amazing. The best part of each lap was launching myself off the famous jump and soaring through the air. Although the race was cancelled because of the weather I was in the top 5 of Moto 3 all weekend and had loads of fun. Thanks to everyone who helped get me here! Thanks to my mom and dad for being there for me at the track."
Jayson has no time to relax before the next round of the championship as he will make his debut in the French Moto 3 series at the Carole circuit near Paris this coming weekend as part of an initiative fronted by former WSBK racer Sebastien Gimbert. The official release outlining the Race Experience Program is below and a full report of Jayson's exploits at the event will follow in due course.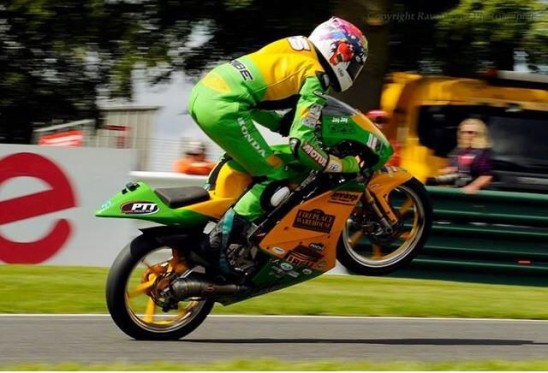 An American rider in Superbike Moto 3 French Championship!
RACE EXPERIENCE JUNIOR (www.race-experience.fr), was created by Sebastien Gimbert, in association with Fabrice Lock, with the goals of improving performance, speed, race-craft and safety for young, talented and upcoming motorcycle racers. Gimbert's professional, multidisciplinary environment, coaching and advice will help prepare these young riders for a career in top-tier, international motorcycle racing.
The next French championship race event will happen the 30th and 31st of August, near Paris, at the "Carole" Racing Facility – Tremblay en France(93). Race Experience Junior and its partner MOTUL, with support of the other Race Experience Junior partners, have decided to welcome a young talented Californian rider, Jayson Uribe (www.jaysonuribe.com) to compete in the Moto 3 class.
As a teammate, Jayson will have Race Experience Junior regular riders: Hugo Casadesus, who is currently leading the Moto 3 French Championship and Mickael Coupe, who is leading the Pre-Moto 3 French Championship.
Jayson is only 15 years old and has already produced many excellent results in The UK Moto 3 Championship this year, with podium finishes in four (4) races out of seven (7). To be able to undertake European competition at 15 demonstrates his major determination and commitment to a career in motorsports, and aligns perfectly with the Race Experience Junior Program.
action photos courtesy of Ian at Bikesportpics, mountain photo courtesy of Ravensport Photographic