American Alex Wisdom will start tomorrow's 6th round of the PATA European Junior Cup powered by Honda from row 4 after improving on his overnight position to end the final qualifying in an impressive 10th position, his best ever grid slot.
Having spent most of the evening studying the data from yesterday's sessions, Alex altered a number of things on the bike including gearing and even gambled on a radical new suspension setting. After discussing strategy before the session started, Alex strung together a number of ever improving laps before posting his eventual best lap 8 minutes before the chequered flag, a time which was over 2.5 seconds faster than his Friday time.
Today's result is important for tomorrow's ten lap race as the Portimao circuit is extremely technical, and overtaking on the undulating section of the course can be difficult.
Starting from 10th, Alex has put himself in contention for what could be his best ever result when the lights go out tomorrow.
Speaking immediately after the session, a clearly delighted Wisdom claimed he could have gone even faster had it not been for the increase in the wind along the main straight at the very end.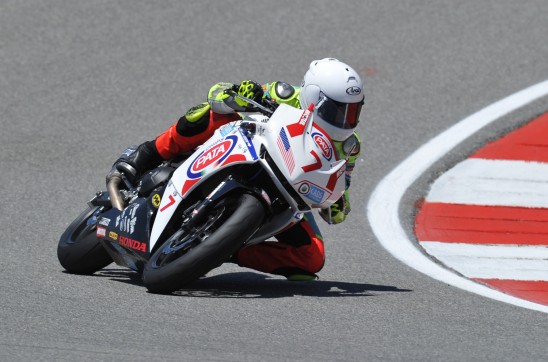 Alex Wisdom: "Today was a better session than yesterday and I think there is still room for improvement because the wind got much stronger in the last ten minutes. I am going to try to find a bit more speed in the race and from the start tomorrow the plan is to keep my head down and push for my best finish of the season. Thanks to everyone that continues to support me, to my dad for all the overnight changes that we made and to all the people that have come over from the UK to watch me this weekend."
photos courtesy of Formula Photographie.