The opening day of the 8th round of the World Superbike Championship saw Team Hero EBR rider Aaron Yates ride his EBR1190RX machine on Portimao's rollercoaster, ending the two combined free practice sessions outside of the qualification maxima as once again the team were blighted with set-up issues.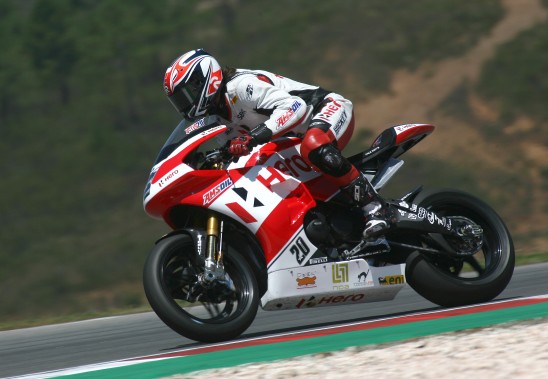 Keen to put the disappointment of Misano behind him, Geoff's weekend began in the worst possible way with him unable to ride his 1190RX machine as parts were delayed at Portuguese customs. He was however able to make his Portimao debut in FP2 but such is the challenging, undulating nature of the Portuguese circuit he was unable to make any serious impression in the overall standings. Aaron on the other hand completed a good number of laps throughout the day but despite making steps forward with 1190RX machine found himself just outside of the qualifying limit.
Looking ahead to tomorrow's FP3 and given the slight progress made in FP2 for both riders, the team is optimistic of having both riders qualify for Sunday's races.
Geoff May: "For me Portimao is the coolest track that I have ever ridden. It has a great layout and is so much fun to ride. I made the most of FP2 after missing the morning session but the engine arrived with ten minutes to go this afternoon and apart from one small glitch everything went well. There is a definite improvement so I am confident for tomorrow after setting myself the challenge this afternoon to learn the circuit quickly."
Aaron Yates: "We made some improvements in FP2 with the bike set-up and that should help us tomorrow in FP3. I didn't go as fast I thought we would this afternoon but we did make a step forward. I am more comfortable with the track now after the afternoon session and am ready for tomorrow."

Giornata di apertura difficile per il Team Hero EBR in Portogallo
Il giorno di apertura dell'ottavo round del Mondiale Superbike si è corso sul circuito di Portimao, in Portogallo, ed ha visto Aaron Yates, rider del Team Hero EBR, terminare le due sessioni di prove fuori dai limiti per la qualificazione, con il team ancora alle prese con alcuni problemi di setup.
Desideroso di mettersi alle spalle il round di Misano, il week-end di Geoff May, compagno di squadra di Yates, è iniziato nel peggior modo possibile, visto che un ritardo avvenuto alla dogana non ha permesso di consegnare in tempo alcune componenti della sua EBR 1190RX per il primo turno di prove. Fortunatamente, il rider americano è riuscito a prendere parte al secondo turno di prove sul tracciato portoghese, senza pur tuttavia riuscire ad ottenere risultati promettenti. Aaron, d'altro canto, ha completato numerosi giri in sella alla sua EBR 1190RX ma, sebbene abbia ottenuto costanti miglioramenti, non è riuscito a rientrare nei tempi validi per la qualifica.
Considerati i leggeri passi in avanti compiuti quest'oggi in pista, il Team è fiducioso che entrambi i piloti potranno centrare la qualifica nel terzo turno di prove di domani.
Geoff May: "Considero Portimao la pista più bella su cui abbia mai corso, ha una bellissima configurazione ed è davvero divertente da guidare. Ho corso le FP2 dopo aver saltato gran parte delle prove della mattina ed il motore è arrivato quando mancavano 10 minuti al via ma, a parte qualche piccolo intoppo, tutto è andato per il verso giusto. Ho riscontrato un sostanziale miglioramento e sono fiducioso che domani potremo far bene, visto che ho sfruttato il pomeriggio per imparare rapidamente la pista."
Aaron Yates: "Nelle FP2 di oggi siamo riusciti a migliorare e questo dovrebbe aiutarci nel terzo turno di domani. Questo pomeriggio non sono riuscito ad essere così veloce quanto speravo ma abbiamo fatto un passo in avanti. Dopo la sessione pomeridiana mi sento ancor più a mio agio con il circuito e sono pronto per domani."
photos courtesy of Kel Edge.