The optimism ahead of the 7th round of the World Superbike championship turned into a feeling of disappointment and frustration after both Team Hero EBR riders were unable to finish the day's opening race and only Geoff was able to contest race two after Aaron's machine developed a technical issue that prevented him starting.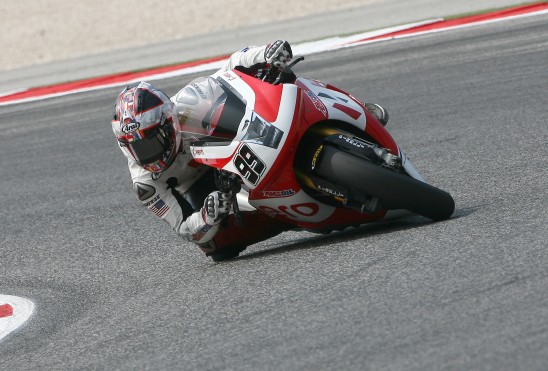 After having to start from the pitlane in both races Geoff retired his EBR 1190RX after 3 laps in race one because of an issue with the clutch before riding well to climb to 22nd in race two before retiring for a second time to avoid troubles at the front riders on the last lap.
Aaron was running 24th in race one before a technical problem forced his retirement leaving him unable to start the following race as there wasn't enough time to rectify it.
Of course after such a positive result in Sepang the team leave Misano a little downhearted but will come back positive and ready to fight again in Portimao in a fortnight.
Aaron Yates: "There is nothing much to say apart from that I am very disappointed about my retirement because we made good improvements during the weekend and I really wanted to ride in both races. The whole team is working hard and I am sure in Portimao we will make another step forward in the development of the bike."
Geoff May: "I tried to push hard in both races but a technical problem with the clutch put me out of Race 1 and in Race 2 I preferred to stop to prevent any problem for the guys fighting for the podium. Starting from the Pitlane left me too far from the other riders and it wasn't easy to close the gap. We are doing our best and I really hope for a better result in Portimao."

IL TEAM HERO EBR COSTRETTO ALLA RESA A MISANO
L'ottimismo che aleggiava nel box del Team Hero EBR all'inizio del 7° Round del World Superbike Championship si è tramutato in un sentimento di delusion, visto che entrambi i piloti non sono riusciti  a completare le due gare previste per la giornata. In particolare, Aaron Yates non ha potuto prendere parte alla seconda manche per problemi tecnici alla sua moto.
Dopo esser partito dalla Pitlane in entrambe le gare Geoff è stato costretto al ritiro in gara 1 dopo solo 3 giri a causa di un problema alla frizione mentre stava rimontando fino alla 22 posizione; in gara due il rider americano, prossimo al doppiaggio dei piloti di testa, ha preferito issare bandiera bianca onde evitare che la propria presenza in pista potesse creare problemi alla volata finale.
Aaron stava transitando in 24° posizione in gara 1 fino a quando un problema tecnico non lo ha costretto al ritiro, tanto da impedirgli di partecipare anche alla seconda manche di gara.
Sicuramente, dopo il risultato positivo di Sepang il team riparte da Misano con grande sconforto, ma tra due settimane la compagine italo-americana ritroverà il consueto ottimismo in vista della gara di Portimao.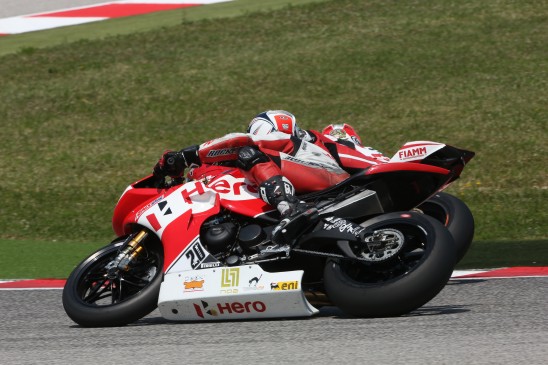 Aaron Yates: "In questi casi non c'è molto da dire. Mi è dispiaciuto dovermi ritirare perché durante il fine settimana abbiamo fatto degli ottimi miglioramenti e oggi avevo un gran voglia di correre. Tutta la squadra sta lavorando sodo e sono sicuro che a Portimao riusciremo a fare un passo in avanti nello sviluppo della moto."
Geoff May: "Ho cercato di spingere forte in entrambe le gare ma a causa di problema tecnico ho dovuto ritirarmi da Gara 1 e in Gara 2, ad un certo momento, ho preferito fermarmi dopo essermi reso conto che avrei creato problemi di doppiaggio al gruppo di testa. Partire dalla Pitlane mi ha portato lontano dagli altri piloti e non sono riuscito a ricucire il gap. Stiamo facendo tutti del nostro meglio e spero davvero in un risultato migliore a Portimao."