After a positive day yesterday, Team Hero EBR have qualified for tomorrow's two 16 lap encounters at the Sepang International Circuit near Kuala Lumpur.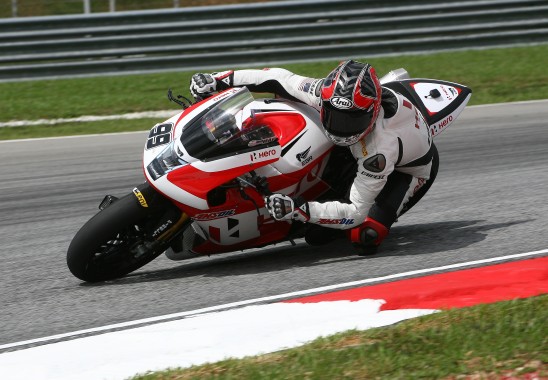 Improving in both sessions yesterday, Geoff suffered a small technical problem this morning which prevented any further improvement today, leaving him 26th on the grid.
Aaron recovered from a small crash in FP2 to complete FP3 which was held in extremely humid conditions at the fast flowing Malaysian track. He will start both races from 27th on the grid.
Looking ahead to the races tomorrow, both riders are excited to be making their Malaysian race debut with their EBR1190RX machines, which has received a lot of interest from local fans throughout the weekend so far.
Geoff May: "Things were going good until the problem but we have found a new setting with the rear shock with positive results so we can be positive moving forward."
Aaron Yates: "We are doing the best we can. We need to keep working at improving the grip level and to find a consistent pace but we have a comfortable setting despite me missing all of FP2 after tucking the front. It's frustrating to be down a little on speed but nevertheless I am enjoying riding here. It has always been one of my favourites since I first rode here in 2001 and I'll be giving it my all in the races tomorrow."
Race 1 is scheduled to take place at 1330 local time tomorrow, with the second race due to start at 1630.
Il Team Hero EBR si prepara alla gara in Malesia
Dopo una positiva giornata di qualifiche, il Team Hero EBR è pronto per il doppio appuntamento di gara di domani, presso il Sepang Intenational Circuit di Kuala Lumpur
Geoff May ha fatto parecchi progressi il venerdì ma, a causa di un piccolo problema tecnico, questa mattina non ha potuto migliorarsi ulteriormente, ottenendo alla fine il 26° piazzamento in griglia.
Aaron si è ripreso dal piccolo incidente di ieri ed ha quindi potuto affrontare il terzo turno di qualifiche, un turno reso particolarmente impegnativo a causa delle condizioni di alta umidità.
Il pilota americano partirà dalla 27° posizione in griglia.
Guardando alle gare di domani, entrambi i piloti sono entusiasti di poter debuttare sulla pista malese con la propria EBR 1190RX, moto che ha riscosso un grande interesse da parte dei fan presenti in circuito.
Geoff May: "Stava andando tutto bene fino a quando abbiamo riscontrato il problema tecnico. Ma sono soddisfatto perché abbiamo provato un nuovo setting all'ammortizzatore posteriore che ci ha dato ottimi risultati e ci fa sperare in un ulteriore passo avanti."
Aaron Yates: "Stiamo facendo del nostro meglio. Dobbiamo continuare a lavorare sodo per migliorare il grip e avere un buon passo. Eppure, malgrado abbia saltato il secondo turno di qualifiche siamo riusciti a trovare un setting adeguato. È frustrante mancare un po' di velocità ma tutto sommato mi sto divertendo molto a correre qui. È stato da sempre uno dei miei circuiti preferiti da quando ci ho corso nel 2001 e darò il massimo nella gara di domani."
photos courtesy of Kel Edge.