Team Hero EBR were in action on the opening day at the Sepang International Circuit on the outskirts of Kuala Lumpur as the 2014 World Superbike Championship returned to Asia for the first time in twenty years.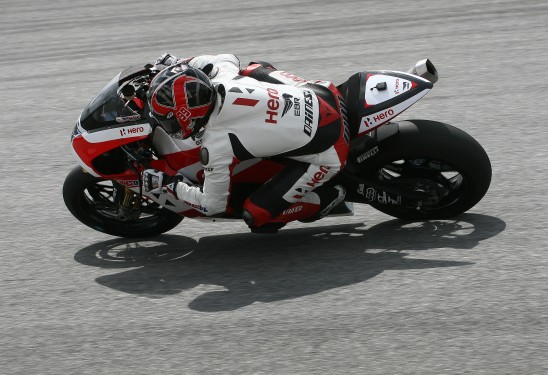 Unlike in many of the previous rounds, the fast-flowing nature of the Malaysian circuit was new for the majority of the field, and the longer 75 minute opening Free Practice session helped both riders, Geoff May and Aaron Yates to get up to speed more quickly.
Despite coping with the hottest conditions of the season so far, Geoff and Aaron (who suffered a small crash in FP2) are relishing at riding in the intense humidity that comes with racing in Malaysia.
Geoff May – "It was a positive first session. The heat wasn't so bad when riding but when you return the garage in the session to make changes wow it hits you. This afternoon we weren't able to improve our times which was due to some degree with the increase in track temperature but the bike is working really well here so hopefully we can continue to push and make it into Superpole tomorrow, which is the target."
Aaron Yates – "It's a shame we had the small crash because the bike was definitely better this afternoon. I'm ok and the bike wasn't too badly damaged so we will be ready to push again in the morning, it just took too long to get the bike back to the garage this afternoon."
With the opening day of on track activity completed, the team will review the data with the aim of improving tomorrow morning when the on track action resumes for the final Free Practice session that will determine the top twenty riders in Tissot-Superpole and the remaining grid positions from 21st onwards.
Ahead of today's on track sessions, Geoff attended the official media event yesterday which saw him take one of the fastest elevators in the world, scaling the heights of the Petronas Twin Towers in central Kuala Lumpur before sampling a lunch of local Malayan cuisine after the official SBK Q&A session.
Il Team Hero EBR comincia la propria avventura asiatica sul circuito di Sepang
Il Team Hero EBR torna in azione nel giorno di apertura sul circuito "Sepang International Circuit", nei pressi di Kuala Lumpur, in occasione del ritorno del Mondiale Superbike in Malesia a distanza di venti anni.
A differenza di molte delle gare precedenti, il veloce circuito malese è stato una novità per la maggior parte dei piloti e il primo turno di qualifica, da 75 minuti, ha aiutato entrambi i rider del team, Geoff May e Aaron Yates a prendere rapidamente confidenza con il nuovo circuito. Considerato che si trovano alle prese con le condizioni meteo più calde della stagione agonistica, sia Geoff che Aaron (che ha subito un piccolo incidente nelle FP2) stanno cercando di guidare al meglio malgrado l'intensa umidità riscontrata in Malesia.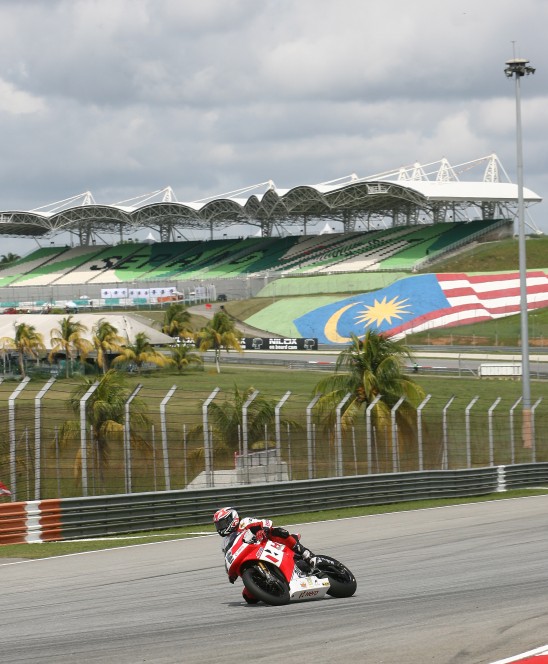 Geoff May – "E 'stata una prima sessione positiva. Il caldo non è così fastidioso mentre si guida ma quando si torna al garage per apportare le modifiche alla moto, ti colpisce davvero. Questo pomeriggio non siamo riusciti a migliorare i nostri tempi, il che è dovuto in certa misura all'aumento della temperatura della pista, ma la moto va davvero bene quindi speriamo di poter continuare a spingere forte e riuscire ad entrare in Superpole domani, che è il nostro obiettivo."
Aaron Yates – "E 'un peccato aver avuto quel piccolo incidente, perché la moto andava decisamente meglio questo pomeriggio. Io sono apposto e la moto non è troppo danneggiata, quindi domani mattina saremo pronti a spingere di nuovo al massimo. Questo pomeriggio ci è voluto un po' troppo per riavere la moto al box."
Dopo aver completato la giornata di apertura qui a Sepang, il team esaminerà i dati raccolti con l'obbiettivo di migliorare ancora nell'ultima sessione di qualifica di domani, che determinerà l'accesso in Superpole e le restanti posizioni in griglia di partenza.
In vista della prime prove libere, ieri Geoff ha partecipato al media event che lo ha visto prendere uno degli ascensori più veloci al mondo, mentre saliva lungo le Petronas Twin Towers di Kuala Lumpur per andare a gustare un pranzo a base di prodotti tipici della cucina malese, subito dopo l'intervista ufficiale della SBK.
photos courtesy of Kel Edge.