The third round of the FIM European Superstock 600cc Championship took place earlier today at a hot and sunny Imola circuit in northern Italy.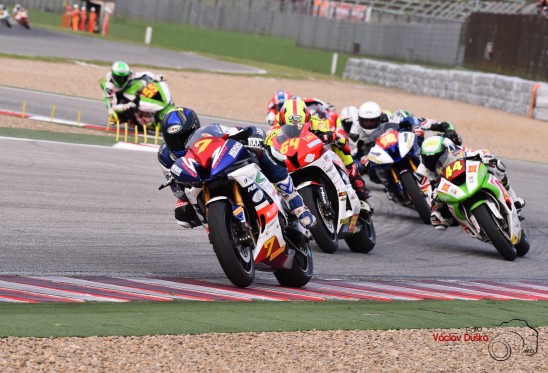 VFT Racing riders Stefano Casalotti, Christopher Gobbi and Paolo Giacomini were on track early for an 8.15am Free Practice session because of their final session yesterday being cancelled due to a drain cover that needed repairing at Turn 4.
With the morning session going smoothly, all three riders were back in action at 1145 for their official qualifying session. All three riders qualified, Casalotti started the race from 11th position, Gobbi 18th, while Giacomini had a small crash but was still able to start the race from 25th.
The race as usual was action packed from the start, and after a thrilling 12 lap race Stefano Casalotti emerged as the final rider to stand on the podium after a valiant race to claim 3rd. The result is the first podium for him and the VFT Racing Team in the Superstock category.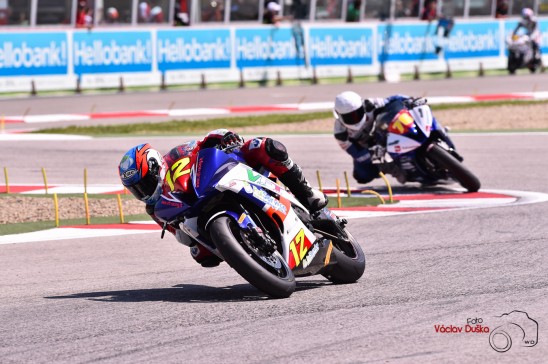 Christopher Gobbi was unlucky to crash on the penultimate lap from 14th, Paolo Giacomini completed the race in a respectable 19th position at the flag.
Stefano Casalotti – 3rd position: "Today was perfect. I want to say a big thank you to all my team, my family and my sponsors. Everybody has worked so hard and finally we arrive at the podium. With this confidence I hope we can continue to challenge at the front for the final four races."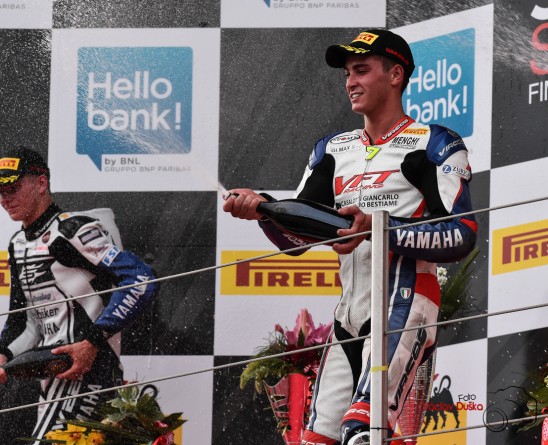 Casalotti regala al VFT Racing il suo primo podio
Il terzo round del FIM European Superstock 600cc si e' disputato oggi ad Imola con temperature molto alte..
Questa mattina I piloti del VFT Racing Stefano Casalotti, Christopher Gobbi e Paolo Giacomini hanno disputato alle 8.15 del mattino le seconde prove libere perche' ieri le prove della stock600 sono state cancellate per poter riparare la rottura della griglia dello scolo dell'acqua alla quarta curva.
Alle 11.15 i tre piloti del VFT Racing hanno fatto il turno di prove ufficiali. Stefano Casalotti si 'e classificato 11o, Gobbi 18o e Giacomini, che ha avuto una piccola caduta, 25o.
Come al solito e' stata una gara di gruppo dall'inizio e dopo di 12 giri appassionanti  Stefano Casalotti ha conquistato la 3a posizione Questo e' il miglior risultato del VFT Racing Team nella Superstock.
Christopher Gobbi non 'e stato fortunato ad Imola ed e' caduto nel penultimo giro quando era 14o. Paolo Giacomini ha finito in una buona 19a posizione.
Stefano Casalotti – Terzo classificato: "Oggi 'e stato fantastico. Voglio ringraziare tutto il mio team, la mia famiglia e I miei sponsors.  Tutti hanno lavorato molto e finalmente siamo saliti sul podio. Questo  mi ha dato molta fiducia e spero di continuare a combattere per le prime posizioni in tutte le gare."
photos courtesy of Vaclav Duska Jnr.