With official qualifying set to be held in similar conditions to today's free practice sessions at the legendary Imola circuit in Northern Italy, the H-Moto pairing of Robert Muresan and Riccardo Cecchini are looking to maximise their performance when it counts tomorrow.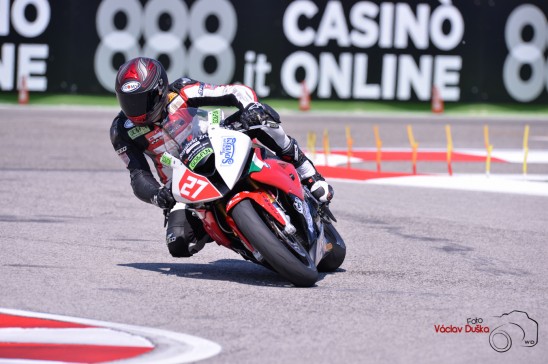 This afternoon's second on track encounter saw improvements for both riders with Muresan ending the combined classification in an encouraging 13th position with Cecchini, who suffered a small crash mid-session ending the day in 23rd position overall.
Both riders are pleased with the progress on their BMW machines and are ready to push 100% tomorrow.
Robert Muresan – 13th position: "Today was a very good day. We improved the rear suspension a lot for the second free practice session and we also tried a new tyre strategy. I only used one tyre for both sessions so to be 13th is pretty encouraging. I think that tomorrow with new tyres I can improve by at least one second and for qualifying we should be in the top ten.
Riccardo Cecchini – 23rd position: "Today I made a lot of changes and we completely changed the bike. I felt good but I made a small mistake and I crashed. I think that tomorrow we have a lot to do but we are definitely on the right path."