H-Moto BMW suffered a double DNF in the second round of the FIM Superstock 1000cc Championship at Assen earlier today as both Riccardo Cecchini and Robert Muresan slid out of potential point scoring positions in the treacherous conditions.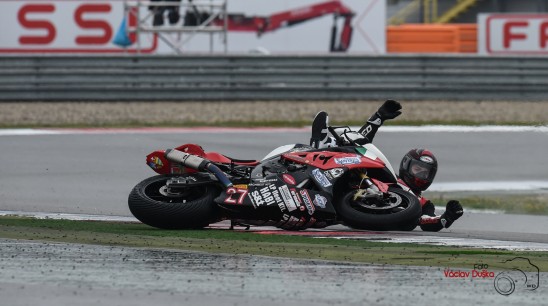 Starting alongside each other on row 4 the pair made a reasonable start but it was shortlived as firstly Muresan and then Cecchini crashed out.
Muresan had been looking strong but tumbled out of contention in the early stages.
Cecchini had been riding fantastically in only his second ever race on the BMW 1000cc machine, battling hard with American Josh Day until defending on the final lap he slid to the ground.
Both riders were uninjured and are buoyed by their performances this weekend.
Round 3 is in Imola in a fortnight.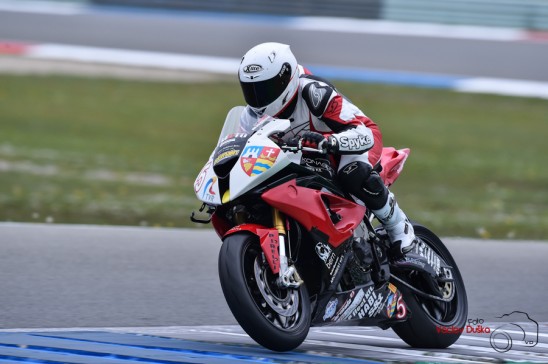 Riccardo Cecchini – "I was riding well and I was doing everything I could to keep Josh behind me when I went down. It's frustrating not to have been able to finish the race as we have been looking good all weekend but I am happy with how we worked and how the bike was so I will be going to Imola confident of scoring my first points of the year."
Robert Muresan – "Despite everyone's efforts to have a good wet setting we had problems today, even on the warm up lap. Our data shows that the traction control wasn't working properly and with no rain practice we were robbed of what should have been a point scoring finish. Despite the problems I think if I hadn't crashed we could have scored points but that's racing and we are already thinking about Imola and a better race there."
Doble DNF en Assen para H-Moto tras un buen fin de semana
H-Moto BMW ha sufrido un doble DNF en la segunda ronda del Campeonato FIM Superstock 1000cc en Assen. Ambos pilotos Riccardo Cecchini y Robert Muresan han perdido posibles puntos después de sufrir un caída en condiciones climatológicas difíciles.
Empezando en la misma fila en la parrila de salida, cuarta, ambos han hecho una buena salida; sin embargo la caída primero de Muresan y luego de Cecchini ha dejado un mal sabor de boca a todo el equipo.
Muresan hacía una prometedora salida  pero un "highside" al principio de la carrera le ha quitado todas las esperanzas.
Cecchini ha tenido una performance fantástica en su segunda carrera con la BMW 1000cc, batallando con el americano Josh Day y defendiéndose hasta la última vuelta pero cayéndose al final.
Ambos pilotos salieron ilesos y están contentos de los progresos se su equipo.
La siguiente carrera es Imola en 15 días.
Riccardo Cecchini: "Estaba girado bien y estaba haciendo todo lo posible para dejar atrás a Josh cuando me he caído. Es frustrante no haber podido acabar la carrera ya que hemos tenido buenos resultados durante todo el fin de semana. Pero estoy contento de cómo hemos trabajado y de la moto. Voy a Imola esperando de coger esos primeros puntos tan esperados."
Robert Muresan: "A pesar de los esfuerzos de todos para poder tener un buen set up en mojado hemos tenido algunos problemas, incluso en el warm up. Nuestros datos muestran que incluso la tracción de control no funcionaba bien y sin ningún tipo de pruebas en mojado nos han quitado lo que nos hubiéramos merecido, algunos puntos, pero bueno así son las carreras y ya estamos pensando en Imola."