Fabio Menghi has scored another point in the 2014 World Supersport championship after finishing 15th at Assen on his VFT Racing Yamaha in the Netherlands earlier today.
Menghi, who suffered a crash as well as technical issues during the weekend had started the 18 lap race from 20th on the grid before slowly working his way forward.
The next event is at Imola, a home race for both rider and team. Expectations for round 4 are high.
Fabio Menghi – 15th position: "After the weekend, the crash and the problems we had to get 15th and another championship point is not so bad. I'm frustrated that we couldn't fight any higher but we have some time to arrive in Imola ready to be closer to the front. We know what the problems are and we will be ready."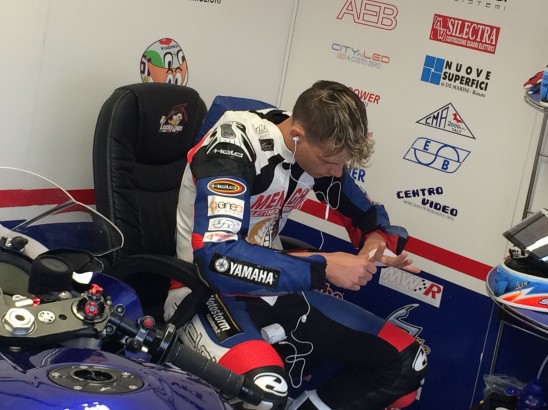 Fabio Menghi a punti per la terza volta
Fabio Menghi ha finito la gara di oggi ad Assen in 15ª posizione e ha raccolto un altro punto per la classifica del World Supersport 2014.
Menghi, che durante questo difficile weekend ha sofferto una caduta e diversi problemi tecnici, è scattato per la gara dalla 20a posizione in griglia di partenza e poco a poco ha rimontato posizioni.
La prossima gara si terrà a Imola, gara di casa per il pilota e per il team e l'aspettative per il quarto round sono alte.
Fabio Menghi-15th: "Un punto non è così male dopo la caduta di ieri e i problemi che abbiamo avuto durante questo weekend. Sono frustato di non aver potuto lottare per posizioni più avanzate ma adesso abbiamo un po' di tempo per prepararci per Imola ed essere pronti a stare davanti. Sappiamo quali sono stati i problemi e siamo pronti per dare il massimo."