Following his crash in yesterday's opening qualifying session, American teen Alex Wisdom has qualified in 19th position for tomorrow's European Junior Cup race after a difficult session that was interrupted by occasional spots of rain falling at the Dutch circuit of Assen.
Alex, who rode despite still being sore from the incident less than 24 hours before managed to improve his lap time but was unable to improve his position on the grid.
There are however a number of positives to take from today, including the fact that Alex has some changes to make ahead of the race tomorrow that should allow him to challenge for a point scoring finish in the 10 lap race at the 'Cathedral of Speed'.
Alex Wisdom – "Today was a tough day but it's all part of racing. I am going to change a few things for the race and when the lights go out I am going to give it everything to finish in the points. It's not been the perfect weekend but these things happen and I want to thank CADS Racing for repairing the bike. We went faster which is the main thing and so I need to remain positive, especially after our performance in the first race."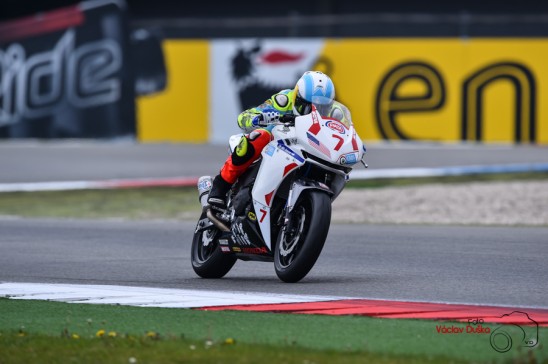 photos courtesy of Vaclav Duska Jnr.