With intermittent spots of rain falling for the one and only qualifying session ahead of tomorrow's second round of the FIM Superstock 1000cc Cup race at the 'Cathedral of Speed' in Assen, H-Moto BMW riders Robert Muresan and Riccardo Cecchini rode superbly to claim 10th and 11th on the grid respectively.
Both riders have been lapping consistently inside the top twelve all weekend and the entire H-Moto BMW team are buoyed by the big step forward that both riders have made.
With the threat of rain tomorrow, both riders are optimistic of achieving solid results rain or shine.
Robert Muresan – 10th in qualifying: "Today was a very good day. I improved by more than 1.5 seconds from yesterday and after today I think it shows that we can fight in the leading group this year. Tomorrow in the race if it is dry again I am confident that I can go even faster as I had a different tyre strategy this afternoon and didn't change the rear in the session. If it rains it's hard to say what will happen but I have always gone well in the wet conditions so I am sure we can still race strongly."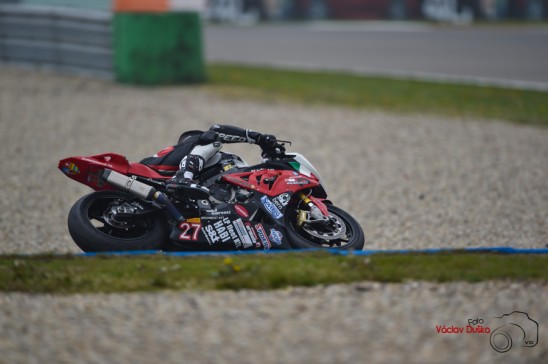 Riccardo Cecchini – 11th in qualifying: "I'm quite happy with the bike. We made a few changes for qualifying which were better. I am still getting used to the changes and I'd like to try a couple of things in the warm up tomorrow morning. I think that this will improve things for me in sector 3 and if I can sort this part of the track then I confident of being able to fight for the top ten. If it's wet it will be tough but I will put my head down, think about it and push."
Muresan & Cecchini se califican en la cuarta fila para H-Moto en Assen
Con lluvia intermitente cayendo en la única sesión de oficiales en la segunda carrera del mundial FIM Superstock 1000cc Cup en la "Catedral de la Velocidad" en Assen, los pilotos de H-Moto Robert Muresan y Riccardo Cecchini, han hecho un gran trabajo acabando en 10˚ y 11˚ posición en la parrilla de salida respectivamente.
Ambos pilotos han estado constantemente en el top 12 durante todo el fin de semana y en el equipo H-Moto BMW están muy contentos del gran paso adelante que ambos pilotos están haciendo.
Con la amenaza de lluvia mañana, ambos riders son optimistas de poder obtener resultados sólidos tanto si llueve como si no.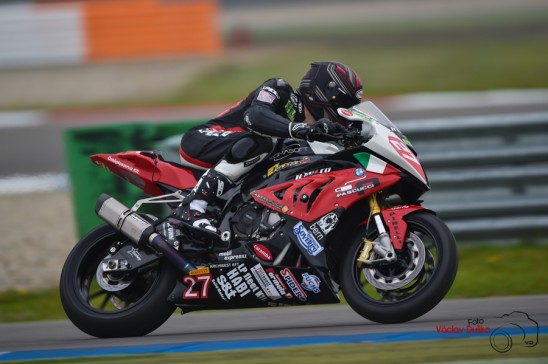 Robert Muresan – 10˚ : "hoy hemos tenido un buen día. He mejorado más de 1.5 segundos de ayer y creo que con este resultado demostramos poder luchar con los grupos líderes este año. Mañana en carrera si no llueve otra vez, estoy bastante seguro que puedo ir incluso más rápido que hoy ya que hemos acogido una estrategia diferente de neumático. Si llueve es difícil decir que pasará pero siempre he ido bien en mojado y creo que podemos ser igual de fuertes."
Riccardo Cecchini – 11˚: "estoy bastante contento con la moto. Hemos hecho algunos cambios para esta sesión de oficiales que me ha permitido tener un mejor feeling. Todavía necesito adaptarme a los cambios y me gustaría probar un par de cosas más mañana en el warm up que me haga mejorar en el sector 3 y poder acabar en el top 10. Si llueve será difícil pero daré todo lo mejor que tengo para obtener un buen resultado."
photos courtesy of Vaclav Duska jnr.