After a monster high-side in Free Practice, Italian Fabio Menghi has qualified on the seventh row of the grid in 20th position for tomorrow's Dutch World Supersport race.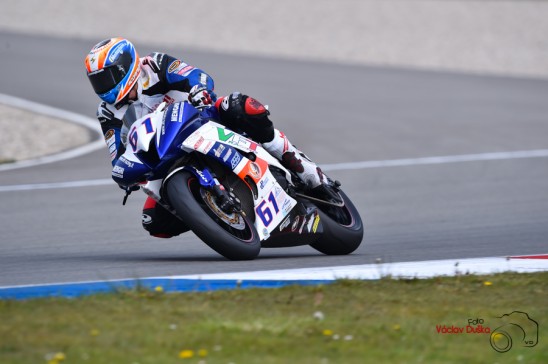 After improving step by step over the weekend, Fabio was lucky not be injured as he was ejected from the seat of his R6 Yamaha before landing heavily on his shoulder.
Nevertheless, and after the VFT Racing crew had repaired the machine returned to the track to ensure his place on tomorrow's grid.
Fabio Menghi – 20th in qualifying: "We made a good step forward and I think that we now have a good setting with the bike and the motor is good. We must continue to work overnight to make another step for the race. I don't know if it's a case of me not liking Assen or Assen not liking me because I don't have much luck here. I have a little pain in my shoulder but we will try to make the best job that we can tomorrow."
Menghi scatterà dalla 20a posizione nella gara Olandese dopo un sabato difficile.
Dopo un brutto high-side, Fabio Menghi partirà dalla settima fila in griglia di partenza della gara di World Supersport.
Fabio si è migliorato turno dopo turno durante il weekend ed è stato fortunato di non avere sofferto nessuna lesione dopo di essere stato "lanciato" dalla sua Yamaha R6 ed essere caduto sulla sua spalla.
Lo staff tecnico del VFT ha comunque riparato la moto e Fabio ha potuto disputare il turno di qualifica per assicurarsi un posto in griglia di partenza.
Fabio Menghi – 20th in QP: "Abbiamo fatto un bel passo in avanti e adesso abbiamo un buon setting e anche il motore va bene. Dobbiamo continuare a lavorare questa sera per aggiustare qualche cosina per la gara. Non so se sono io che non piaccio ad Assen o Assen che non piace a me perché non sono proprio fortunato in questa pista. La spalla mi fa un po' male ma domani daremo il massimo."