After the opening race of the season a fortnight ago Christopher Gobbi rode his VFT Racing Yamaha to a credible 11th position in difficult wet conditions claiming his first championship points in the second round of the FIM Superstock 600cc Championship at Assen earlier today.
The Italian youngster rode brilliantly to grab 5 points in only his second race in the series.
The race was delayed after heavy rain began to fall at the Dutch circuit, and with no wet weather practice over the weekend, the race was a real challenge for the 36 riders.
As Gobbi relished the opportunity to mix it just outside of the top ten his team mates Stefano Casalotti struggled in the tricky conditions eventually finishing just out of the points in 18th. Paolo Giacomini fell just before half distance and was unable to rejoin. He was unhurt in the incident.
Gobbi himself was lucky not to be involved in an accident as he narrowly avoided the stricken Kawasaki of Michael Canducci early in the race.
Christopher Gobbi – 11th position: "In the dry it was hard here as the track is very technical but in the rain it made it easier, especially with nobody having any practice in the wet conditions before the race. I like riding in the rain and I am very happy with the result. The next race is in Imola and I know this track so I will doing my best to get an even better result."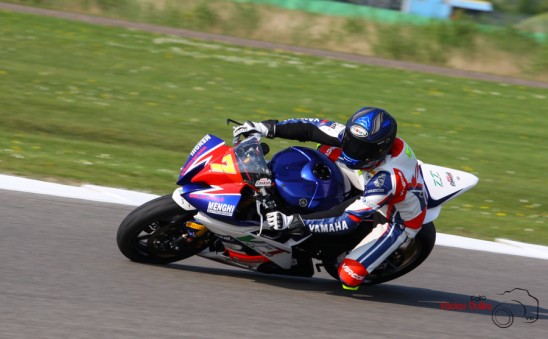 Stefano Casalotti – 18th position: "Today was difficult. I felt confident in the dry but then the rain came. In Imola I will be fighting hard to be back at the front."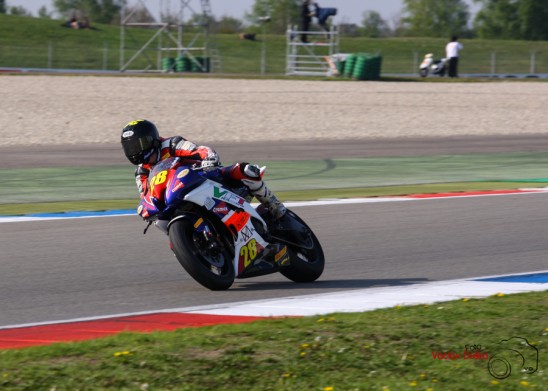 Paolo Giacomini – DNF: "It was a tough weekend with a couple of crashes and for sure I didn't want to crash in the rain. I need to focus on the next race at Imola and we will try to be stronger there."
 Gobbi Va Forte Sotto La Pioggia Di Assen
Dopo l'inizio del campionato quindici giorni fa, Christopher Gobbi ha portato la Yamaha del VFT Racing all'undicesima posizione in una gara corsa in condizioni difficili sotto la pioggia, raccogliendo i suoi primi punti della stagione nella seconda gara del FIM Superstock 600cc ad Assen.
Il giovane italiano ha guidato in maniera magistrale riuscendo a raccogliere cinque punti nella sua seconda gara.
La gara è stata posticipata a causa di un forte acquazzone ed é stata dichiarata bagnata, nessun pilota aveva potuto girare in condizioni di bagnato e quindi è stata una condizione davvero difficile per i 36 partenti.
Mentre Gobbi ha potuto lottare per la top ten, il suo compagno di squadra Stefano Casalotti si è trovato in difficoltà sull'asfalto reso viscido dalla pioggia e ha tagliato il traguardo fuori dalla zona punti  in 18a posizione. Paolo Giacomini è caduto a metà gara e non é potuto ritornare in sella. Giacomini è uscito illeso dall'incidente.
Lo stesso Gobbi è stato fortunato a non essere coinvolto nell'incidente visto che ha evitato la Kawasaki di Michael Canducci per un pelo.
La prossima gara del campionato si svolgerà tra quindici giorni a Imola.
Christophher Gobbi- 11º: "Sull'asciuto è stato difficile perché la pista è molto tecnica, ma sulla pioggia mi è andata bene perché nessuno aveva girato sul bagnato prima della gara. Mi piace molto andare sull'acqua e sono molto felice del risultato. La prossima gara è a Imola e conosco la pista, darò il massimo per migliorare questo risultato."
Stefano Casalotti- 18º: "Oggi è stata dura. Ero molto fiducioso sull'asciutto, però la pioggia è arrivata. Ad Imola lavorerò duro per ritornare ad essere davanti."
Paolo Giacomini – NC: "È stato un weekend veramente difficile con due cadute e di sicuro non volevo ricadere sul bagnato. Mi concentrerò per la prossima gara a Imola e proveremo ad essere piú forti."
A selection of photos taken from the entire weekend courtesy of vaclav duska jnr.