Italy's Fabio Menghi and his VFT Racing Yamaha team worked hard during today's two free practice sessions at the Assen circuit in the Netherlands, and despite being 19th overall in the combined classification are confident of moving significantly up the standings in official qualifying tomorrow.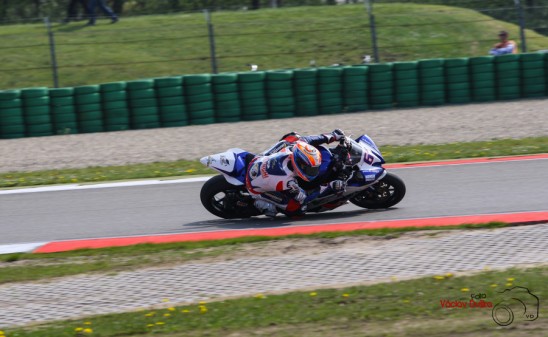 Menghi, who had been in the points scoring places in both of the 2014 World Supersport races was in jovial mood with his crew as the dawn fell at the Catherdral of Speed, conscious that they improved by almost 1.5s between today's two on track outings, and confident that the changes need to both electronics and suspension will allow them to challenge the front runners.
With one more free practice session ahead of final qualifying VFT Racing will be working hard on finding those few tenths needed to challenge for the top 12 on the grid, giving them the best chance possible for a good result on Sunday's 18 lap encounter, which is likely to be held in wet conditions.
Fabio Menghi – VFT Racing Yamaha: "Today was frustrating because for sure I know that we can be in the top ten at the very least but the whole team is working hard. We are not a factory team and so we need to work together to find the best solution with the electronics and the suspension but I am not so upset because we were able to go almost 1.5s faster this afternoon which shows that we are moving in the right direction. We have one more free practice session and so I am hoping that the rain stays away to allow us to try the things that we want to. If it rains for qualifying it is the same for everyone so we will fight as usual to get the best result possible before the race on Sunday."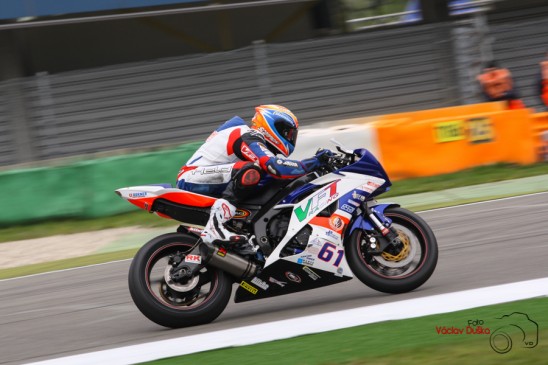 Qualifying will take place at 1555 local time tomorrow.
Mengi migliora passo dopo passo ad Assen
L'italiano Fabio Menghi e il Team VFT Racing hanno lavorato duramente durante I due turni di prove libere di oggi sul circuito di Assen in Olanda, e malgrado essere in 19esima posizione nella classifica combinata, sono fiduciosi di poter migliorare in maniera significativa nelle qualifiche di domani e di poter scalare la classifica.
Menghi, che ha raccolto punti in entrambe le gare del Mondiale Supersport finora disputate, si è detto soddisfatto del lavoro svolto dal suo team, visto il miglioramento di quasi 1.5s tra il primo ed il secondo turno, e fiducioso che le modifiche apportate ad elettronica e sospensioni gli permetteranno domani di poter lottare con i migliori.
Con ancora un turno di libere da disputare prima delle qualifiche, il team VFT lavorerà duramente per permettere a Menghi di poter limare qualche decimo di secondo che gli servirà per poter lottare per le prime 12 posizioni in griglia di partenza, avendo in questo modo la possibilità di poter ambire a un buon risultato nella gara di domenica che si disputerà sulla lunghezza di 18 giri che probabilmente si correrà in condizioni di pioggia.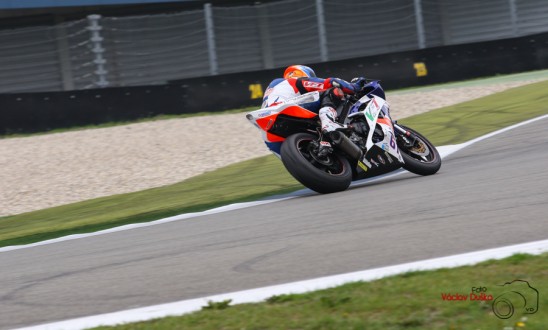 Fabio Menghi – VFT Racing Yamaha: "Oggi è stata una giornata dura, perché sappiamo che il nostro potenziale è ambire almeno alla top ten.  Il team sta lavorando duramente, ma non essendo un team ufficiale  dobbiamo lavorare uniti per trovare la migliore soluzione a livello elettronico e ciclistico, comunque non sono preoccupato, visto che oggi pomeriggio siamo riusciti a migliorare il nostro tempo di quasi 1.5s, segno che la direzione che stiamo seguendo è quella corretta. Abbiamo ancora a disposizione un turno di prove libere e spero che la pioggia non rovini i nostri piani e ci lasci provare le ultime modifiche. Se dovesse piovere in qualifica non fa differenza, visto che la condizione sarà uguale per tutti e siamo pronti a lottare come sempre per raggiungere il miglior risultato possibile prima della gara di Domenica."
Le qualifiche si terranno alle 15:55 ora locale domani.
photos courtesy of Vaclav Duska Jnr.