It was a mixed day for Team Hero EBR at Assen today with Aaron finishing the two free practice sessions in 26th position, with Geoff just outside the 107% limit despite also improving significantly in the afternoon's warmer session.
This morning was as ever an exploratory session for both guys with neither of them having ridden at the legendary Dutch track before and despite the overcast and cold conditions, both were able to provide feedback ahead of the next on track outing.
With temperature's higher in the latter session, it was unsurprising to see almost everyone improve. Both riders improved and the whole team continues to work step by step to close the gap to the front.
As always the weather is unpredictable at Assen, and the team are keeping everything crossed for some further dry track times tomorrow.
Geoff May – "Assen is a physical circuit and I'm not able to wrestle the bike like I want to. We will make some adjustments overnight and I hope the weather is still dry tomorrow to give us a chance of making the races on Sunday. The team are, as always, working well so thanks to them for another good job today." 
Aaron Yates – "I had a pretty solid day. Like most tracks, it's my first time here but I feel like I got the track down pretty quickly this morning. Overnight we need to study the data and I've got couple tenths at least still to find in a couple of sectors so we are optimistic of improving. It seems like I am saying the same thing but this is our reality. It's disheartening to see our positions on paper considering the progress we are making but we doing an immense amount of work behind the scenes. The guys are awesome and giving 100% so a big thanks to them."
Tomorrow sees a final free practice session at 0945 local time before the Tissot-Superpole qualifying sessions for those riders within the top 20 in the practice classification.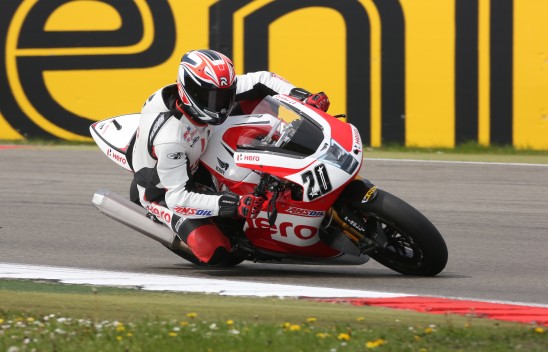 Il Team Hero EBR affronta il primo turno di qualifiche ad Assen
È stato un giorno di alti e bassi per il Team Hero EBR ad Assen, con Aaron che ha concluso le due sessioni di prove libere in 26 e Geoff appena fuori dal tempo limite di qualifica, malgrado il miglioramento della sessione pomeridiana.
La sessione della mattina è stata come al solito dedicata alla scoperta del tracciato, visto che entrambi i piloti non avevano mai corso sul leggendario circuito olandese e, malgrado il clima freddo e nuvoloso, sia Aaron che Geoff hanno raccolto importanti feedback in vista della prossima uscita in pista.
Con temperature sempre più alte, la sessione pomeridiana ha visto quasi tutti i piloti migliorare il proprio tempo. Entrambi i rider del Team Hero EBR hanno continuato il lavoro passo dopo passo per accorciare il margine che li separa dalle posizioni di testa.
Come spesso accade, il clima ad Assen è sempre variabile ed il team confida in un meteo più asciutto possibile per la sessione di domani.
Geoff May – "Assen è un circuito fisico ed io non sono ancora in grado di combattere come vorrei. I meccanici apporteranno alcune migliorire durante la notte e spero che il tempo sia ancora asciutto domani, per darci la possibilità di correre una buona gara. Il Team sta lavorando come sempre al meglio e li ringrazio per l'ottimo lavoro svolto quest'oggi."
Aaron Yates – "Ho avuto una giornata piuttosto solida. Come per la maggior parte dei circuiti, è la prima volta che corro qui ma sento di aver compreso abbastanza in fretta questa pista. Durante la notte avremo bisogno di studiare i dati che ho raccolto e credo di avere ancora qualche decimo da recuperare in alcuni settori, quindi siamo ottimisti per ulteriori miglioramenti in vista delle sessioni di domani. è sconfortante vedere la nostra posizione in classifica, considerato i progressi che stiamo facendo, ma è impressionante la mole di lavoro che stiamo portando avanti dietro le scene. I ragazzi sono meravigliosi e stanno dando il 100%, quindi li ringrazio di cuore."
Domai è prevista l'ultima sessione di qualifica alle 09:45 ora locale, poco prima della sessione di qualifiche della Tissot-Superpole prevista per tutti i piloti che si qualificano nella top 20 durante classiche precedenti.