Alex Wisdom ride his CADS Racing Honda into a brilliant 13th position, his career best result in Europe at the opening round of the PATA European Junior Cup in Spain earlier today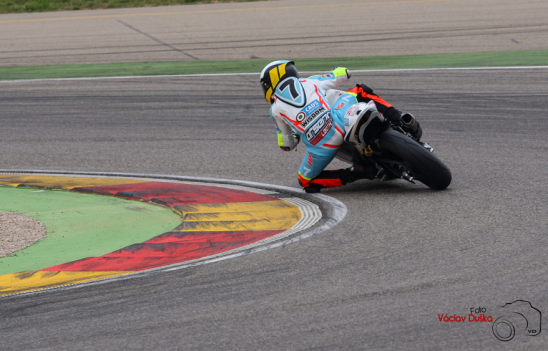 Alex who had already achieved a personal best grid position for the 8 lap encounter was unlucky not to finish higher after having to take avoiding action to miss being involved in an accident with two of his rivals who fell right in front of the American in the early laps.
With the gap to leading group too big to bridge, Alex rode the rest of the race confidently, fending off last lap challenges from a number of riders to secure 3 championship points on the opening round of the year.
Analysis of the data after the race show clearly that the lap times achieved in the race were good enough to run within the top ten, had the early lap incident not happened.
Alex Wisdom – 13th position: "It was a decent race and I am really happy to improve my times once again. I have scored points in the opening round and already exceeded what we did last year. I am more prepared this year as I know what to expect and at Assen I will be giving it my all to get into the top ten – I know I can after today. Thank you to CADS Racing, my dad and everyone for getting me here again."
Round two of the series takes place at Assen in the Netherlands in a fortnight.