After a successful two day Spanish test at Alcarras, the Hero EBR squad are now in transit to MotorLand Aragon for the first European race of the 2014 World Superbike championship.
The test was scheduled to allow both riders, Geoff May and Aaron Yates so get back up to speed after the break since Phillip Island. It was also an opportunity for Geoff, who was unfortunately injured in Australia to check his physical strength after an intense period of recovery.
With a goal of testing a number of new technical solutions, the team began with the data we collected in Australia. New forks, gearing, and new electronics were just some of the items tried out.
Overall the two days was hailed a success as it gave the team a clear direction, and we will work on this further during the race weekend at Aragon.
Geoff May: "This test was positive. The new forks and new electronic setup will help us to be more competitive in the races at Aragon. Aragon MotorLand is a fast track and I have never raced there but I am confident we will make a step forward compared to Phillip Island."
Aaron Yates: "We tested a lot of different solutions, some that were positive and were a step forward. It was a good test and it helped us to know which direction to move. I am really looking forward to racing in Aragon."
With Aaron attending the opening media press conference, Geoff will join riders from the other represented manufacturers in the championship on the Paddock Show stage beginning at 1.30pm local time on Thursday.
Practice for the first European race of the season begins on Friday with further sessions scheduled on Saturday. Should things go to plan Team Hero EBR will also take part in Tissot-Superpole. The races on Sunday form part of the new look schedule which we are all excited to be a part of.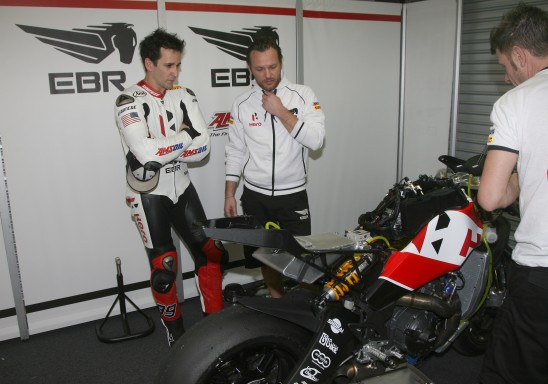 Italian Version:
Dopo una positiva due giorni di test ad Alcarras, il Team Hero EBR è in viaggio verso il circuito MotorLand di Aragon, per la prima tappa europea del Mondiale Superbike.
Il test è stato programmato per permettere ad entrambi i piloti, Geoff May ed Aaron Yates, di tornare a regime dopo la gara di Phillip Island.
È stata anche l'occasione per Geoff, infortunato in Australia, di mettere alla prova il proprio stato fisico dopo un intenso periodo di recupero.
L'obbiettivo per il Team è stato quello di testare una serie di nuove soluzioni tecniche, in virtù dei dati raccolti a partire dalla gara australiana.
Nuove forcelle, nuovo cambio e nuova elettronica sono solo alcuni dei componenti provati in questi test.
Nel complesso la due giorni di test ha avuto il pregio di dare alla squadra una chiara direzione da seguire in vista della prossima gara di Aragon.
Geoff May: "Questi test sono stati davvero positivi. La nuova forcella ed il nuovo setup elettronico ci aiuteranno ad essere ancor più competitivi ad Aragon. Il circuito spagnolo è molto veloce ed è la prima volta che corro in questa pista, ma sono sicuro che faremo un ulteriore passo in avanti."
Aaron Yates: "Abbiamo provato diverse soluzioni tecniche: alcune ci hanno dato risultati molto positivi e ci hanno permesso un ulteriore passo in avanti. Questi test ci hanno permesso di conoscere qualche direzione prendere e adesso non vedo l'ora di poter tornare in sella per la gara ad Aragon."
Aaron parteciperà alla conferenza stampa di apertura ad Aragon, mentre Geoff si unirà ai piloti provenienti dalle altre case costruttrici sul palco del Paddock Show, previsto per Giovedì, 13:30 ora locale.
Le attività in pista per la prima tappa europea del mondiale inizieranno Venerdì, con ulteriori sessioni di qualifiche in programma per sabato. E se le cose vanno andranno secondo i piani, Il Team Hero EBR prenderà parte alla Tissot-Superpole. Le gare di Domenica si svolgeranno secondo il nuovo forma orario previsto dagli organizzatori del mondiale.
Aragon Weekend Schedule: