English Version: May & Yates To Test Ahead Of Hero EBR Debut In Europe
The 2014 World Superbike championship is heading to Spain for round two of the series and Team Hero EBR are delighted to confirm the presence of both of their riders, Geoff May and Aaron Yates for their European debut.
Both riders worked hard in Phillip Island, which was the first time the all new EBR 1190 RX had turned a wheel and whilst Aaron was rewarded with 17th and 20th in the two races, Geoff was left nursing a broken collarbone after a tumble in free practice whilst looking odds on for a Superpole start.
Geoff returned to Italy where he underwent an operation to his collarbone and whilst not 100% fit he is determined to make his 2014 race debut on the 13th April.
Geoff May – Rider: "I am excited to get back to racing. I feel fortunate to have had the break between races as this has given me time to heal properly after surgery and for my team to work hard on the further development of the EBR 1190RX. See you at the races!"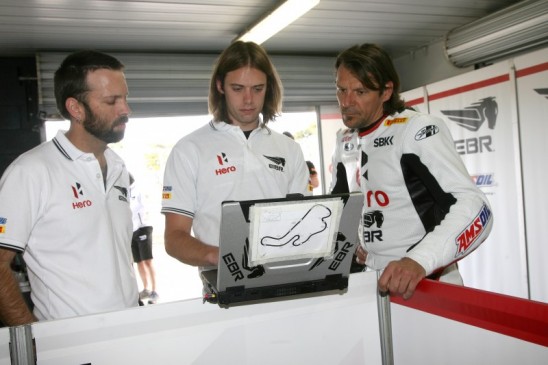 Since the Australian round the entire Hero EBR team has continued to work hard and with a test scheduled at the Alcarras circuit, Spain on 7th and 8th April, they confident of further on track progression at MotorLand Aragon. This final test will allow the team to assess new parts and upgrades that should see them able to narrow the gap to the point scoring positions.
Giulio Bardi – Team Manager: "The Alcarras test is to allow us to consider a new technical solution before the race in Aragon. We will try new ECU maps, new electronics, new front forks (different from what we used in Australia), a new setting for the suspension and new gearing. Obviously the next round is getting closer and these solutions all need time to be improved, so we must decide which of these technical parts will be our priority."
Aaron and Geoff have never ridden at MotorLand Aragon so as in Australia they will have the added challenge of learning the technical but flowing Spanish track.
Everyone within Team Hero EBR is looking forward to getting back on track and to meeting our Spanish fans.
Italian Version: May & Yates Impegnati Nei Test In Vista Del Debutto Europeo Del Team Hero EBR
Il World Superbike Championship fa rotta verso la Spagna per il secondo round della serie ed il Team Hero EBR è lieto di confermare la presenza di entrambi i piloti, Geoff May and Aaron Yates, per il debutto europeo della squadra.
Entrambi i piloti hanno lavorato sodo a Phillip Island, in quella che è stata la prima occasione in cui la nuovissima EBR 1190RX è scesa in pista; in gara Aaron ha conquistato la 17° e  20°  posizione nelle due manche, mentre Geoff è rimasto vittima di un incidente durante le prove libere che gli è costato la frattura della clavicola, proprio mentre cercava di inserirsi nella lotta alla Superpole.
Geoff è rientrato in Italia dove ha subito un intervento alla clavicola e, sebbene non sia ancora al 100% della forma, è più determinato che mai a correre la sua gara di debutto europeo il 13 Aprile.
Geoff May – Pilota: " Sono entusiasta di poter tornare in pista. Sono stato fortunato ad aver avuto una pausa così lunga prima di questa nuova gara, perché ha dato a me il tempo di recuperare dopo l'operazione ed al team la possibilità di portare avanti lo sviluppo della EBR 1190RX. Ci vediamo alla prossima gara!"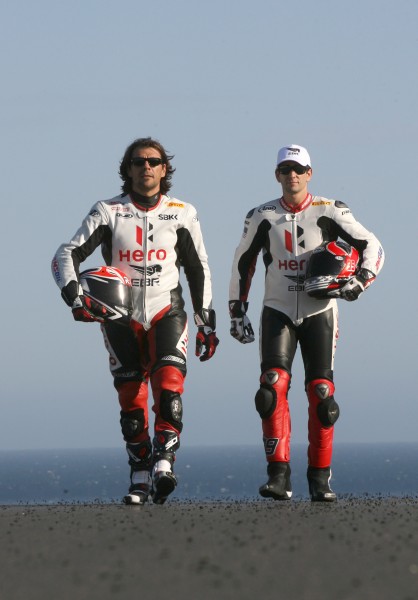 Dopo la gara Australiana il Team Hero EBR ha continuato senza sosta il lavoro sulle proprie moto e, forte della due giorni di test prevista per il 7 ed 8 Aprile sul circuito spagnolo di Alcarras, è fiducioso in un ulteriore miglioramento a partire dalla gara di Aragon. Questo test permetterà al team di valutare nuove componenti ed aggiornamenti che dovrebbero mettere la squadra nella condizione di ridurre il gap dalla zona punti della classifica.
Giulio Bardi – Team Manager: "Il Test ad Alcarras ci permetterà di testare nuove soluzioni tecniche prima della gara di Aragon. Tra le cose che proveremo, compatibilmente con il poco tempo a disposizione, ci sono: delle nuove mappature, una nuova elettronica, delle nuove forcelle che non avevamo in Australia, un nuovo setting all'ammortizzatore ed un nuovo cambio. Naturalmente, il prossimo round è vicinissimo e tutte queste soluzioni richiedono tempo per essere implementate al meglio, per cui dovremo darci delle priorità e decidere su cosa concentrare il lavoro".
Aaron e Geoff non hanno mai corso sul circuito MotorLand di Aragon per cui, proprio come in Australia, si troveranno a dover imparare da zero il tecnico e scorrevole circuito spagnolo.
Tutti nel Team Hero EBR sono impazienti di tornare in pista ed incontrare i propri fan Spagnoli.