After posting impressive times throughout the official Phillip Island tests on Monday and Tuesday, Fabio Menghi was left frustrated after an engine problem in official qualifying left the Italian in 16th position on the grid for tomorrow's opening World Supersport race.
Menghi, who is racing one of only 4 Yamaha machines in the championship, has been showing great form in Australia and despite the issue which happened on his third flying lap, is confident and expecting luck to be on his side when the race starts tomorrow.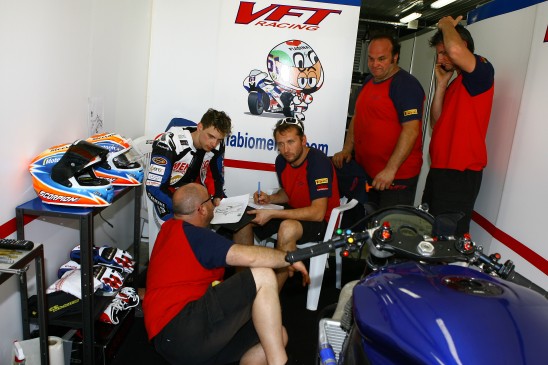 Fabio Menghi – VFT Racing Yamaha: " I'm disappointed to have this problem today. We made some changes after the session this morning and even though I only made 2 laps before the problem it already felt so much better. Tomorrow morning in the warm up, I want to push to make a lap time so that I can start the race with a smile on my face."
Round one of this year's World Supersport championship will take place in between both Superbike races at 1310 local time over 18 laps of the 4.4km Australian venue.
UN PROBLEMA TECNICO ARRESTA L'ASSALTO DI MENGHI ALLA QUALIFICA AUSTRALIANA
Dopo aver registrato tempi davvero notevoli ottenuti nei test ufficiali di Lunedì e Martedì a Phillip Island, Fabio Menghi ha subito un problema al motore della propria moto proprio durante la fase di qualifica e domani partirà dalla 16° posizione nelle griglia di partenza del Mondiale Supersport.
Menghi, che sta correndo con una delle sole quattro Yamaha nel Campionato, ha dimostrato una grande forma qui in Australia e, malgrado i problemi riscontrati al suo terzo giro veloce, è fiducioso e spera che la fortuna sia al proprio fianco quando partirà la gara domani.
Fabio Menghi – VFT Racing Yamaha: "Sono dispiaciuto per il problema di oggi. Abbiamo fatto delle modifiche dopo la sessione mattutina e, sebbene abbia fatto solo due giri prima che si verificassero questi problemi alla moto, ho sentito il feeling migliorare nettamente. Domani mattina nel warm up voglio spingere forte in modo da partire in gara con il sorriso sulle labbra."
Il round numero uno di questa stagione del Mondiale Supersport prenderà il via tra le due gare di Superbike, alle 13:10 ora locale, e si disputerà attraverso 18 giri (4.4 km a giro) del circuito Australiano.