In a dramatic final free practice session at Phillip Island, Team Hero EBR rider Geoff May suffered a nasty looking fall which has left him with a fractured left collarbone.
With conditions significantly better than the previous 24 hours, both Hero EBR riders were keen to improve their positions and for May, he was hopeful of not just improving in terms of time but also hopeful of hanging onto the final Superpole spot. It wasn't to be however for Geoff, as after only 9 minutes of the session, he suffered a spectacular crash which has ruled him out of the season opener tomorrow.
Considering that the all new EBR 1190 RX machine hadn't turned a wheel until the official test on Monday, in the overall classification we were only 0.4s from making it into the Superpole session.
On the other side of the garage, Aaron Yates, continued to improve, reducing his personal best lap time by almost a second to ensure that he lines up on the grid tomorrow in 23rd position.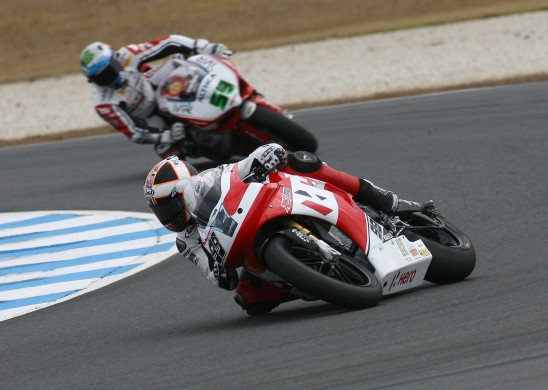 Giulio Bardi – Team Hero EBR Manager: "What happened to Geoff is a real shame. We had been making steps forward with the bike every time we go on track which is really encouraging for us. We were hoping Geoff could make a few laps to allow us to continue to evaluate the data but then he crashed. The main thing is that he is not too seriously hurt and should make a full recovery for Aragon. Aaron on the other hand did make a big step forward with his lap time and although he didn't make the Superpole should have two solid races tomorrow."
Aaron Yates – Rider: "We made some changes and I am starting to get more feel from the rear now which means we are picking up with drive, so all in all we are moving in the right direction. All that counts at this stage is for us to keep collecting data and from there we can keep taking steps forward. We arrived here with some completely new aspects of the bike so of course we have had to make adjustments. We are a little bit off the pace but tomorrow the plan is of course to finish both races and if we can pick up a tow, anything could happen."
Il Team Hero EBR Manca L'Accesso In Superpole A Phillip Island

In un drammatico finale di prove libere a Phillip Island, il pilota del Team Hero EBR, Geoff May, ha riportato la frattura la frattura della clavicola sinistra a seguito di una brutta caduta.
Grazie a delle condizioni nettamente migliori rispetto alle precedenti 24 ore, entrambi i piloti del Team Hero EBR sono stati in grado di migliorare la rispettiva posizione e per Geoff May si è addirittura palesata la speranza di entrare in Superpole. Purtroppo per Geoff, dopo solo 9 minuti una caduta sbalorditiva lo ha escluso definitivamente dalla sessione di test e, peggio ancora, dalla gara di domani.
Partendo dal presupposto che la nuova EBR 1190RX non ha mai girato in pista fino ai test ufficiali di questo Lunedì, in classifica generale la squadra è arrivata a soli 0.4s dall'ingresso nella sessione di Superpole.
Dall'altra parte del box, Aaron Yates ha continuato a migliorare i propri tempi, riducendo il suo miglior tempo di circa un secondo e posizionandosi 23° in griglia di partenza per la gara.
Giulio Bardi – Team Hero EBR Manager: "Quello che è successo a Geoff è un vero peccato. Stavamo facendo degli incoraggianti passi in avanti con la moto ad ogni uscita in pista. Speravamo di poter raccogliere ulteriori dati sulla moto insieme a Geoff ma poi, purtroppo, è caduto. La cosa più importante è sapere che non ha riportato danni fisici troppo gravi e che, quindi, dovrebbe poter ritornare in pista per la prossima gara di Aragon. Dall'altra parte, Aaron ha fatto un grande passo in avanti e sebbene non sia rientrato in Superpole domani dovrebbe poter correre due belle manche."
Aaron Yates – Team Hero EBR Rider: "Abbiamo fatto alcuni cambiamenti e sto cominciando ad acquisire più feeling con il posteriore, il che significa che stiamo ottenendo una trazione migliore. Nel complesso stiamo andando nella giusta direzione. Quel che più conta in questa fase è raccogliere informazioni e dati dalla moto e utilizzarli per migliorarci sempre di più. Siamo arrivati in Australia con alcuni componenti della moto ancora completamente nuovi e, ovviamente, abbiamo dovuto spendere tempo nel cercare le giuste regolazioni. Siamo stati un po' fuori dai giochi ma domani l'idea è quella di  completare entrambe le gare nel migliore dei modi."