Team Hero EBR have had a positive first day at Phillip Island as Geoff May and Aaron Yates continue to evolve the all new EBR 1190 RX machines.
The all new American team, who only turned a wheel for the first time on Monday, are having to contend with a totally new circuit in addition to having no pre-season testing, but that hasn't prevented an impressive improvement from both riders with every lap completed.
The first Friday session at the iconic Phillip Island circuit, Australia was a complete wash out as the heavens opened throughout the morning, meaning there was little point for the team team to take to the track. In fact only 8 of the full time superbike competitors recorded a lap time.
This afternoon however was a different story as the sun and wind dried the 4.4km circuit allowing Geoff and Aaron to complete 20 and 17 laps respectively. Both riders continue to improve and with the added satisfaction that as it currently stands Geoff is in the final superpole spot of 20th the team have every reason to smile.
Geoff May – Team Hero EBR: "We are continuing to improve the bike and constantly trying new things. It's much better now on the back part of the section and on the run up to Lucky Heights. The bike is turning well, I just need a bit more drive but it will come. To be inside the top 20 is encouraging and we aren't too far from the 33's – let's see what we can do tomorrow."
Aaron Yates – Team Hero EBR: "The bike is turning better now and I have a better feel which is encouraging. We are still working on the suspension to get more feedback with the tyres but we are definitely moving in the right direction."
Both Hero EBR riders will be back on track for the final free practice session in the morning and if all goes to plan the Tissot Superpole sessions which are scheduled to start at 1500 local time.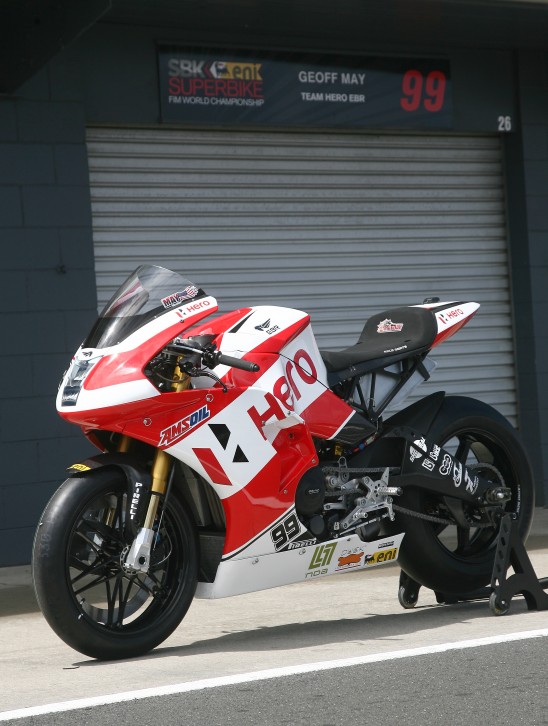 TEAM HERO EBR – PROVE LIBERE DEL VENERDÌ'
Il primo giorno di prove libere a Phillip Island si è concluso bene per il Team Hero EBR, con Geoff May e Aaron Yates impegnati nel migliorare il feeling con la propria 1190RX.
Il team americano – che ha mosso i primi passi in pista lo scorso lunedì – si è trovato a dover lottare su di un circuito totalmente sconosciuto e senza aver partecipato ai test pre-campionato; ma questo non ha impedito ai due tenaci piloti americani di migliorarsi notevolmente ad ogni giro completato.
La prima sessione di prove sullo storico circuito di Phillip Island, in Australia, è stata caratterizzata da un meteo variabile, pertanto la squadra ha preferito restare ai box come la maggior parte degli altri team e aspettare di tornare in pista per la seconda sessione.
Fortunatamente, il pomeriggio il cielo ha voltato faccia e, grazie ad un sole caldo che ha asciugato rapidamente i 4.4 km di pista, Geoff ed Aaron hanno potuto completare rispettivamente 20 e 17 giri. Entrambi i rider hanno continuato a migliorarsi, tanto che, allo stato attuale, con il suo ventesimo tempo Geoff si sarebbe idealmente qualificato per la Superpole. Una bella soddisfazione per tutta la squadra.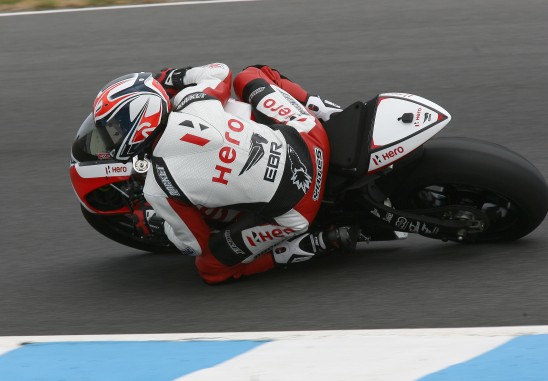 Geoff May – Team Hero EBR: "Stiamo continuando a migliorare il feeling con la moto e proviamo sempre nuove soluzioni. La moto sta andando bene, ho solo bisogno di maggiore tenuta ma arriverà presto. Essere dentro la top 20 è davvero incoraggiante e non siamo troppo distanti dalla soglia del 1'33.00. Stiamo a vedere cosa succederà domani."
Aaron Yates – Team Hero EBR: "La moto sta andando molto bene adesso ed io ho trovato un buon feeling, il che è davvero incoraggiante. Stiamo lavorando sulle sospensioni in modo da avere un feedback maggiore con le gomme. Sono convinto che ci stiamo muovendo nella giusta direzione."
Entrambi i piloti del Team Hero EBR saranno nuovamente in pista per l'ultima sessione di prove libere di Sabato e, se tutto scorre secondo i piani, per la Tissot Superpole che inizierà sabato pomeriggio alle 15:00 ora locale.
photos courtesy of Kel Edge.