After penning a last minute deal to ride with the Rivamoto Honda team only a matter of days ago Aussie Bryan Staring showed that there is a lot of potential to come from this new rider / team combination after ending the opening day of 2014 World Supersport action in an encouraging 13th position.
Having only ridden the bike at Monday and Tuesday's official test, the former Australian Supersport champion wasted no time in re-adjusting to production based machinery after a season in Moto GP.
Running comfortably inside the top ten at the test prior to today's free practice sessions, Bryan and the Rivamoto squad continue to work hard to find the optimum setting with their CBR 600cc Honda and despite a small crash towards the end of today's final outing, are confident of piecing it all together in Saturday's one and only qualifying session.
Team Manager Jeremy McWilliams has some small concerns over tyre life but is pleased with the way that Bryan has approached the weekend so far and is looking forward to continually building on the results as the year progresses.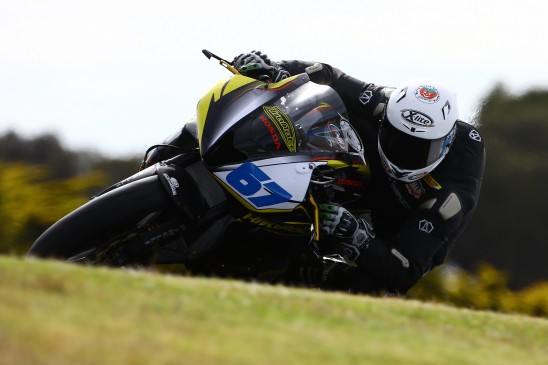 Bryan Staring – Rivamoto Honda: "I was trying to improve the lap time with the new tyre when I lost the rear. The bike is ok, there isn't much damage and I'm ok so we will come back tomorrow and keep trying. The test earlier in the week went ok and we have consistency on our side we just need to find a little bit more."
The World Supersport riders have one final free practice session tomorrow before the all- important 45 minute session to decide the starting grid, which is scheduled to take place at 1555 local time.