Having impressed with his pace in the tests on Monday and Tuesday, VFT Racing's Fabio Menghi was on course for a top 8 result in the second free practice session at Phillip Island earlier today until a crash in the last 3 minutes of the session left the Italian in 11th position overall.
Electing to not ride in the damp session this morning, Fabio made a few exploratory laps before returning to the garage to adjust the settings on his Yamaha machine. The weather conditions and in particular the increase in the wind along the front straight meant that all of the World Supersport riders spent longer than usual in the pits during the session.
With 25 minutes to go and with Menghi in 22nd on the time sheets, the Italian, who celebrated his birthday 48 hours ago, put in a series of personal bests to move up to 8th overall before suffering the crash at the Siberia turn on what was potentially another improving lap.
Thankfully both Fabio and the machine were fine, and although it means a little extra work for the team, they are optimistic of further improving their position in tomorrow's qualifying session.
Fabio Menghi – VFT Racing Yamaha: "I am not happy with crashing. In the afternoon session I had a problem with the rear tyre. The bike is ok but is a big shame that I crashed as we never got to make a race simulation. I am happy with the team because they are working very well and the 5 stitches in my elbow will not stop us tomorrow."
The one and only qualifying session for the World Supersport riders is scheduled to take place at 1555 local time tomorrow.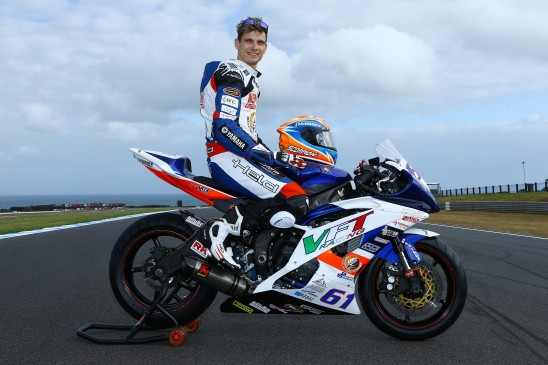 INCIDENTE PER MENGHI NELLA GIORNATA DI APERTURA
Dopo aver impressionato con il proprio passo durante i test del Lunedì e Martedì, il pilota della VFT Fabio Menghi era in corsa per la top 8 nella seconda sessione di prove libere a Phillip Island,  ma la caduta avvenuta questa mattina durante gli ultimi 3 minuti del turno ha lasciato il rider italiano in 11 posizione generale.
Fabio ha deciso di saltare quasi totalmente il turno di prove libere della mattina a causa delle condizioni umide dell'asfalto, ad eccezione di un paio di giri esplorativi che gli hanno permesso di lavorare sul setting della sua Yamaha. Le condizioni meteo ed in particolare il forte vento lungo il rettilineo hanno costretto tutti i piloti della Supersport a restare fermi al box per lungo tempo.
Quando mancavano 25 minuti al termine delle prove Fabio aveva il 22 tempo in classifica. L'italiano, che ha festeggiato il compleanno proprio qui a Phillip Island 48 ore fa, l'italiano ha infilato una serie di ottimi tempi che lo hanno portato in 8 posizione, prima di incorrere in un incidente alla curva Siberia, durante quello che sembrava un altro miglior giro. Per fortuna né Fabio né la moto hanno subito seri danni dalla caduta e, sebbene ci sia del lavoro extra per tutta la squadra per rimettere in sesto la moto, tutti si aspettano un ulteriore miglioramento nella sessione di qualifiche di domani.
Fabio Menghi – VFT Racing Yamaha: "Mi spiace davvero per l'incidente. Nella sessione del pomeriggio ho avuto un problema con la gomma posteriore ma la moto è ok ed è un vero peccato non aver potuto provare una simulazione di gara. Sono sinceramente soddisfatto dalla mia squadra perché tutti lavorano sodo e danno il massimo. I 5 punti di sutura al gomito non mi fermeranno nelle prove di domani."