Hungarian H-Moto team have today announced the first riders in their 2014 set-up.
The team who have run both Honda and BMW machines in previous years will continue to receive support in 2014 from the German manufacturer and will field Italian Riccardo Cecchini and Romanian Robert Muresan in their FIM Stock 1000cc squad.
Cecchini moves to H-Moto after finishing 22nd overall in the 2013 UEM Superstock 600cc category, whilst Muresan, who joined the team half way through 2013 as a replacement rider remains with the team in a full time capacity. Muresan is no stranger to racing full time in a World championship having previously raced in GP as well as in the World Supersport class.
 Riccardo Cecchini in action in 2013 
Kristian Kelemen – Team Manager : "It is a big step in H-Moto's life that we can have two foreign riders join us for 2014. I am very happy to note that our team has been able to provide a good quality service to more riders. This is what I have been working for since the beginning; to prove that a small Hungarian team can race competitively in the world championship. We have an immediate four day test with Riccardo and a full testing program pencilled in. Robert Muresan will join the tests from January. We will continue to run BMW machines. We believe that our riders have the talent and motivation to finish strongly next season and we are excited to arrive at the opening round. Next year we will also begin a program to develop our team off the track. We have started to work with young engineers just finishing university who will help us in data management with telemetry. It is very important for us that they too will grow up with us."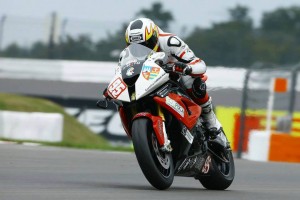 Robert Muresan riding the H-Moto BMW  
In addition the their FIM Stock 1000cc Cup campaign, H-Moto continue to explore various avenues which could see them contest the new SBK EVO category again with BMW power as well as continuing to support the talent of tomorrow by fielding one or two riders in the Superstock 600cc series.